Mexican Chocolate Streusel Cake is an old favorite from Rick Bayless, author of several Mexican cookbooks and owner of Chicago's Frontera Grill and Topolobampo. The original 13×9 inch recipe can be found here, but you can also do what I did and make a "mini" version using an 8 inch square pan. This is the mini version.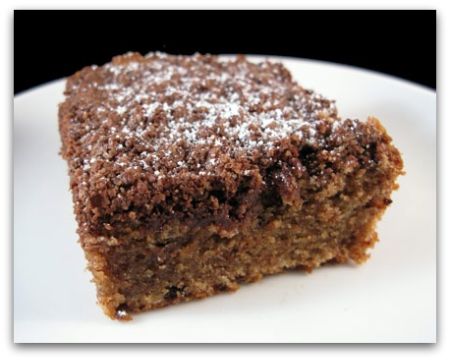 Mini Mexican Chocolate Streusel Cake
Streusel Topping:
9.5 oz Mexican chocolate, chopped
1 small egg yolk or half a large egg yolk**
¼ teaspoon salt
3 1/2 tablespoons unsalted butter, at room temperature
1/2 cup (2.25 ounces) all-purpose flour
Cake:
3/4 cup plus 2 tablespoons(4 ounces) all-purpose flour
½ teaspoon baking powder plus 1 pinch baking powder
4 ounces cream cheese, at room temperature
4 ounces (8 tablespoons) unsalted butter, at room temperature
1/3 cup granulated sugar
2 large eggs, at room temperature
Powdered sugar, for dusting the finished cake
Preheat the oven to 350 degrees F. Spray an 8 inch square metal baking pan with flour-added cooking spray.
Make streusel first. Pulse half of the Mexican chocolate in a food processor until it is the consistency of coarse crumbs. Remove and set aside for the batter.
Add remaining Mexican chocolate to processor and pulse to coarse crumbs. Mix the egg yolk and 1/4 teaspoon salt (if using salted butter, omit the salt) in a small bowl to dissolve the salt. Add to the processor along with the 3 ½ tablespoon butter and ½ cup flour. Pulse until you get a coarse, crumbly mixture – not a paste! Set aside.
Now make the cake. Sift together the 4 oz flour and baking powder; set aside.
Beat the butter and cream cheese together, then beat in sugar. When light and fluffy, beat in the eggs one at a time beating for 30 seconds after each egg.
Add the sifted flour mixture, scrape down the sides of the bowl and beat just until the flour is incorporated (I do this with a spoon – don't overbeat).
Stir the reserved chopped chocolate into the batter.
Scrape the batter into the prepared pan and smooth. Crumble the streusel topping evenly over the batter, making sure there are no large lumps.
Bake in the center of the oven until springy (the edges will have just begun to pull away from the sides of the pan) and a wooden pick inserted at the center comes out clean, 35 to 40 minutes.
Cool on a wire rack. Serve warm, dusted with powdered sugar, or serve at room temperature.
Serves 6
**This is a line I use quite often with my Fuzz. As in
"If I didn't make you clean your room, well, I wouldn't be doing my job."
"If I let you talk to me like that, well, I wouldn't be doing my job."
"If I let you turn that into your teacher, well, I wouldn't be doing my job."
"If I let you eat spaghetti with your fingers, well, I wouldn't be doing my job."