I took the day off yesterday, so to make up for it here's a recipe for Chocolate Muffins with Sour Cream.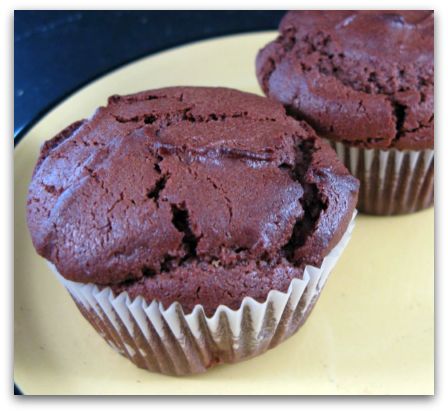 The muffins were good, but I used white whole wheat flour and I believe that made them a tad bit dry – not in a bad way, just different. It's probably best to just stick with all purpose.
Chocolate Muffins with Sour Cream
1 ½ cups all-purpose flour, lightly spooned and swept** (190 grams)
1 teaspoon baking soda
¼ teaspoon salt plus an extra ⅛ teaspoon
5 ounces semisweet chocolate (chocolate chips okay – use 4 oz (¾ plus 1 T.)
2 ounces unsweetened chocolate
6 tablespoons unsalted butter, softened
¾ cup sour cream
⅔ cup packed light brown sugar
¼ cup golden syrup (corn syrup okay)
1 large egg
2 teaspoons vanilla extract
½ cup semi-sweet chocolate chips
Preheat oven to 400 degrees F. Line 12 muffin cups with paper liners.
Sift together flour, baking soda and salt.
Melt both chocolates and butter together in a heat-proof bowl set over barely simmering water. Allow it to cool to warm before using.
Mix sour cream, brown sugar, syrup, egg and vanilla in a mixing bowl. Stir in cooled melted chocolate. Add flour mixture and chocolate chips and stir until blended.
Divide batter evenly among cups – it should come almost to the top (not quite). Bake at 400 degrees F for 18-20 minutes.
**I used white whole wheat flour which weighs a little more. If you use white whole wheat and are measuring by volume, use 1 ½ cups minus 1 tablespoon.