My grandmother left stacks and stacks of Town & Country Magazine around the house, so I became acquainted with James Villas at an early age. Villas was Town & Country's Food & Wine editor for over 30 years, and while I didn't care much for wine when I was 12, I enjoyed Town & Country's food and wine section because the recipes seemed quite exotic at the time.
Years later, when I was old enough to drive myself to the library, I discovered James Villas had written several cookbooks. During my twenties, I checked his cookbooks out from libraries near wherever I was living and read them at night. It was like reconnecting with an old friend.
My favorite of all James Villas books is My Mother's Southern Desserts which he co-wrote with his mother Martha Pearl. With its anecdotes and culinary tips from Martha, it's about as fun to read as it is to cook from – especially if you like Southern style desserts.
I haven't cooked from a James Villas book in a while, but a couple of days ago KAnn sent me this Villas recipe. It's a chocolate chip cookie made with brown sugar….and as The Sweet Potato Queens say "Do I really even need to tell you? Dark, of course!"
So this is an all dark brown sugar cookie and it's a little different. It's dense, firm, soft (not cakey) and rich in flavor. For the cookie in the photo, I used the new 72% cacao discs from Ghirardelli, but any type will do. Also, I think the pecans are mandatory. That's just my opinion of course, but there's something about the brown sugar, pecans and chocolate that all work together.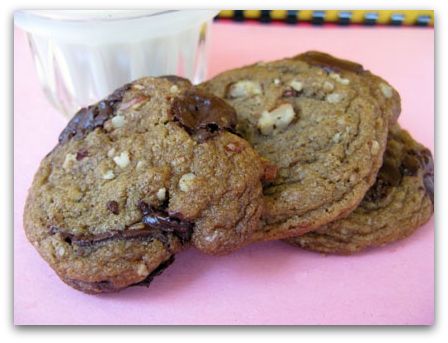 James Villas Pecan Chocolate Chip Cookies
6 oz unsalted butter (12 tablespoons), room temperature
1 1/4 cups dark brown sugar, packed
2 tablespoons milk
1 tablespoon vanilla
1 large egg
1 3/4 cup all purpose flour (7.8 oz)
3/4 teaspoon baking soda
1 teaspoon salt
1 1/4 cups semisweet chips
1 1/4 cups pecan pieces, toasted
Cream butter and sugar with electric mixer until well blended. Add
milk, vanilla, and egg, beat till well blended.
Combine dry ingredients in a second bowl and add to creamed
mixture. Stir till just blended.
Add chips and nuts. Drop by rounded teaspoonfuls onto foil lined baking sheets and bake at 375 degrees for about 8 to 10 minutes. Let cool slightly on the baking sheets, then transfer to a wire rack.
About 6 dozen cookies.