This recipe for Pecan Chocolate Chip Cookies is from the late James Villas, who was the Food & Wine editor for Town & Country Magazine for over 30 years. Last time I checked Town & Country wasn't known for their recipes, but Villas was a prolific food writer nonetheless and wrote some good cookbooks including My Mother's Southern Desserts.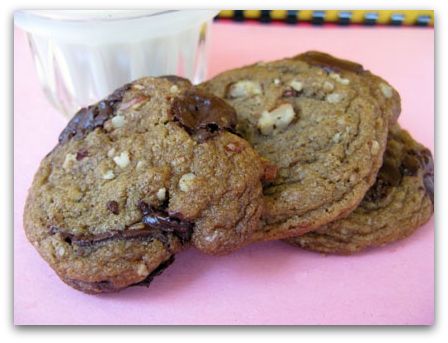 I haven't cooked from a James Villas book in a while, but a couple of days ago KAnn sent me this Villas recipe. It's a chocolate chip cookie made with brown sugar….and as The Sweet Potato Queens say "Do I really even need to tell you? Dark, of course!"
So this is an all dark brown sugar cookie and it's a little different. It's dense, firm, soft (not cakey) and rich in flavor. For the cookie in the photo, I used the new 72% cacao discs from Ghirardelli, but any type will do. Also, I think the pecans are mandatory. That's just my opinion of course, but there's something about the brown sugar, pecans and chocolate that all work together.
Also, the cookies in the photo are rather large. Villas designed the recipe for small cookies. I'll have to make these as small cookies again soon and post a photo.
James Villas Pecan Chocolate Chip Cookies
6 oz unsalted butter (12 tablespoons), room temperature (170 grams)
1 ¼ cups dark brown sugar, packed (250 grams)
2 tablespoons milk
1 tablespoon vanilla
1 large egg
1 ¾ cup all purpose flour (220 grams)
¾ teaspoon baking soda
1 teaspoon salt
1 ¼ cups semisweet chips
1 ¼ cups pecan pieces, toasted
Cream butter and sugar with electric mixer until well blended. Add
milk, vanilla, and egg, beat till well blended.
Combine dry ingredients in a second bowl and add to creamed
mixture. Stir till just blended.
Add chips and nuts. Drop by rounded teaspoonfuls onto foil lined baking sheets and bake at 375 degrees for about 8 to 10 minutes. Let cool slightly on the baking sheets, then transfer to a wire rack.
About 6 dozen cookies (if you make them small).