This recipe for Whiskey Fudge Brownies is a twist on an old Julia Child brownie creation, and I like to think she would approve. The bourbon flavor in this batch was rather subtle, but it may be due to the fact I used Jefferson's Reserve which is an excellent drinking bourbon, but might be more subtle in baked goods. For brownies you can use whatever bourbon or whiskey you have in the house. If you use a stronger spirit (something like Wild Turkey) you may want to skip the last step of brushing the tops with straight bourbon -- or maybe not!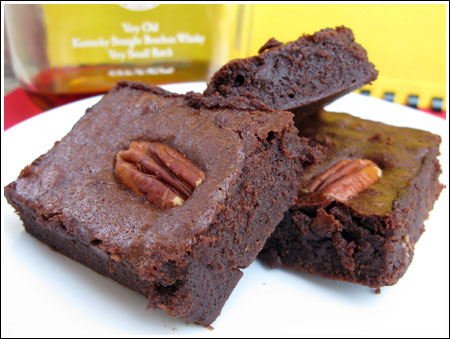 Bourbon Whiskey Fudge Brownies
6 ounces unsalted butter (1 ½ sticks)
3 ½ ounces good quality unsweetened chocolate, cut up
1 ounce bittersweet chocolate, cut-up
1 cup granulated sugar
3 large eggs
½ cup brown sugar
1 teaspoon vanilla
2 tablespoons bourbon plus 2-3 tablespoons for brushing top
¾ teaspoons salt
1 cup all purpose flour
12 or so pecan halves (optional)
Preheat oven to 350 degrees F. Line an 8 inch metal baking pan with foil and spray foil with cooking spray. Alternatively, you may use parchment paper.
Melt butter in a saucepan set over medium heat. When butter starts to melt and coats pan bottom, add chocolate and reduce heat to low. Stir constantly until chocolate is melted. Add the granulated sugar to melted chocolate and stir over low heat for about a minute or two. Remove from heat and let cool for about 5 minutes.
Beat eggs with an electric mixer for 3 minutes or until very light. Add brown sugar to eggs and continue beating for another two minutes. With mixer going, add melted chocolate mixture to egg mixture. Scrape sides of bowl and beat in vanilla, 2 tablespoons bourbon and salt. Add the flour and stir just until mixed.
Pour into pan the pan and bake for 28 minutes or set. Let cool for about 20 minutes on a wire rack, then brush tops with remaining 2-3 tablespoons bourbon. Let the brownies cool too room temperature, then transfer to the refrigerator to chill for a few hours or overnight..
Lift from pan and cut into 12 squares. The chilling/sitting time is important. The texture changes as the brownies chill. This also gives the bourbon flavor some time to develop, though it is quite mild.