Last night I was going through an old Southern Living Annual (2002) and this zucchini cake caught my eye. The only problem was, it was a giant Bundt cake and I just don't need a full Bundt cake.  No problem.  I halved the recipe and turned it into Chocolate Zucchini Cake in a Loaf Pan.
Below is my version which I modified slightly by adding a few miniature chocolate chips and a dash of vanilla. Results were excellent, but I think the cake would be fine even without the extra chips. And speaking of chocolate, someone in the review section of myrecipes.com said that she used cocoa powder & extra oil in place of the 1 ½ oz melted chocolate. The substitution for a loaf cake would be 4 ½ tablespoons unsweetened cocoa powder and an extra 1 ½ tablespoons oil. So if all you have is cocoa, you can still make the cake.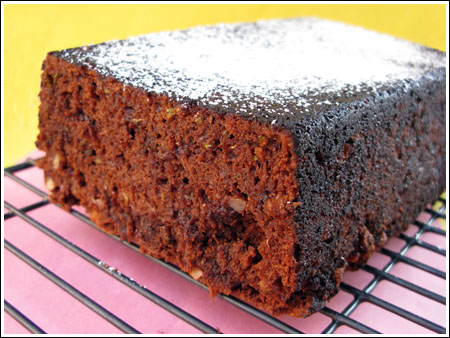 Chocolate Zucchini Cake
1 1/2 cups all-purpose flour
3/4 teaspoons baking powder
1/2 teaspoon baking soda
1/2 teaspoon salt
2 large eggs
1 1/2 cups granulated sugar
1/2 teaspoon vanilla extract
1 1/2 ounces unsweetened chocolate, melted
3/4 cups vegetable oil
1 1/2 cups grated zucchini
1/2 cup pecans, chopped
1/4 miniature semi-sweet chocolate chips
Powdered sugar
Preheat oven to 350 degrees F. Grease a 9×5 inch metal loaf pan and dust it with cocoa powder. Alternatively, you may just spray it with flour-added cooking spray.
Stir together flour, baking powder, baking soda and salt; set aside.
Beat eggs with an electric mixer. Gradually add sugar and continue beating until light. Reduce speed of mixer and beat in vanilla, melted chocolate and oil. By hand, stir in the flour mixture. Fold in zucchini, pecans and chocolate chips. Pour batter into pan.
Bake at 350° for 70 minutes or until a wooden pick inserted in center comes out clean. Cool in pan 15 minutes. Remove from pan; cool completely on a wire rack. Sprinkle with powdered sugar before serving.