And finally, the oatmeal version of the now famous Hard Boiled Egg Chocolate Chip Cookies. I think I'm going to move on to a different cookie now.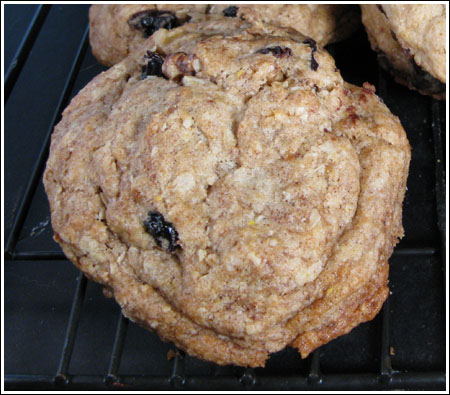 Amazing Hard Boiled Egg Oatmeal Cookie
2 oz flour (½ cup minus 1 tablespoon)
2 oz unsalted butter, cold, cut-up (European style preferably)
¼ cup oats
¼ scant teaspoon salt
⅛ teaspoon baking soda
½ teaspoon cinnamon
2 tablespoons granulated sugar
1 ½ tablespoons light brown sugar (dark probably okay)
½ tablespoon honey
⅛ teaspoon vanilla
½ of a hard boiled egg
Handful of raisins
Handful of walnuts
Preheat oven to 350 degrees F.
Pulse flour and butter in food processor until mealy. Add the oats and pulse to mix. Add the salt, baking soda and cinnamon; pulse to mix. Add both sugars, honey, vanilla and egg and pulse until mealy. Dump into a bowl and add raisins and walnuts. Form into two large balls and bake at 350 degrees F for 20 minutes.
Remove from oven and let cool completely before serving.
Makes two giant oatmeal cookies