Halloween Candy Cookies were inspired by an old Pampered Chef recipe which called for one of their special batter bowls, a stoneware pan, spatula spreader and probably another product I missed while scanning the directions. What I was interested in was the dough, which turned out to be a great vehicle for miscellaneous Halloween candy.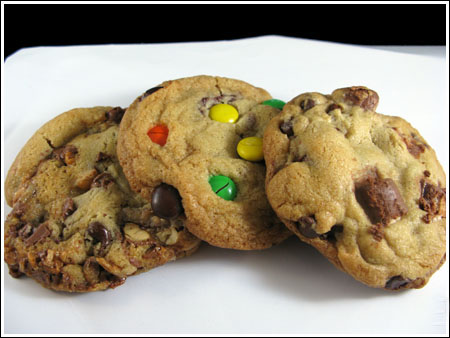 The Perfect Dough for Candy
The dough for Halloween Candy Cookies is perfect because it bakes up into not-too-sweet, crunchy-edged, medium-thick cookies.
Just for fun, I tested the dough with Kit Kat chunks, Twix chunks, Snickers and M&M's. I don't recommend the Twix because the caramel melted all over and the cookies weren't attractive. The Kit Kat cookies were just plain weird and the Snickers were okay, but would have been better with peanut butter. What worked really well were M&M's (of course). I think Rolos or Milky Way would work too.
Leftover Halloween Candy Cookies--aka "Coffeehouse Cookies"
Halloween Candy Cookies
8 tablespoons unsalted butter softened (114 grams)
¾ cup packed light brown sugar (150 grams)
1 large egg
1 teaspoon vanilla
½ teaspoon baking soda
½ teaspoon salt
1 ½ cups all-purpose flour (200 grams)
1 cup semisweet chocolate chunks
Halloween Candy (e.g. M&M's, Rolos)
Preheat oven to 350 degrees F.
Beat butter and brown sugar until creamy. Add egg and vanilla; beat well. Beat in baking soda and salt. Add flour and stir until it is mixed in.
Stir chocolate chunks into the dough. Cut candy bars into small pieces and stir some of the pieces into the dough.
Scoop ¼ cups of dough onto cookie sheet and flatten slightly into mounds. Leave about 3 inches between cookies because they will spread as they bake. Press remaining candy (decoratively) into cookie mounds
Bake 14-16 minutes or until cookies are almost set. Do not overbake; centers should be slightly soft. Cool on baking sheet for about 7 minutes before transferring to a cooling rack.
Makes 12