Today's dessert is Hot Chocolate Fudge Cakes from the most recent issue of Cooking Light. What's special about this recipes is that it's a lightened up version of a classic make-ahead dessert.  And this time of year that's a real plus, because hosts have enough other aspects of the meal to worry about. Hot Chocolate Fudge Cake, if well executed, never disappoints. It's served hot so guests fall under the illusion that you went to a lot of trouble when really, all you did was slip away from the dinner table for 2 minutes to slip a tray of these into the oven and start the coffee.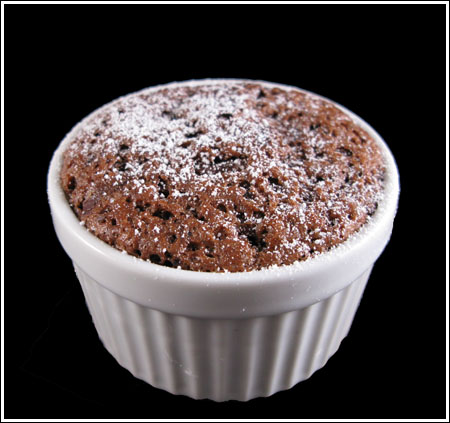 And do these taste light? Well, they were ranked very high by the editors of CL and I can tell you that the ones I made tasted as good as you'd get in a restaurant. The secret is to measure your flour properly not to skimp on the good cocoa and chocolate. Use the best you can afford – and you'll be able to afford the good stuff because the recipe only calls for a small amount. A little goes a long way.
Speaking of little. If you don't have 4 oz ramekins, you can find them at most kitchen stores. I bought mine at a store here in Austin called Faraday's. The 4 oz ramekins look tiny, but when you fill them with batter and actually bake up the little cakes, you'll be satisfied with their size.
And one last thing, I didn't bother with the 1 cup of egg substitute. It only cuts 20 calories off each dessert and eggs are cheaper and more convenient. I used 4 large eggs and would do it again that way. If you're worried about egg safety, you could buy pasteurized eggs.
So all in all I'd say these were seriously good and I'll be making them again soon.