Pumpkin Harvest Bread comes from Better Homes & Garden's 1989 Best Recipes Yearbook. I don't know how I obtained a copy of this book, but I dug it out of a box of books I'd intended to give away. I'm not sure why, because it's a gem. The styles are a little dated, but the recipes are great. This one is particularly good because it's a combination of regular and chocolate pumpkin bread.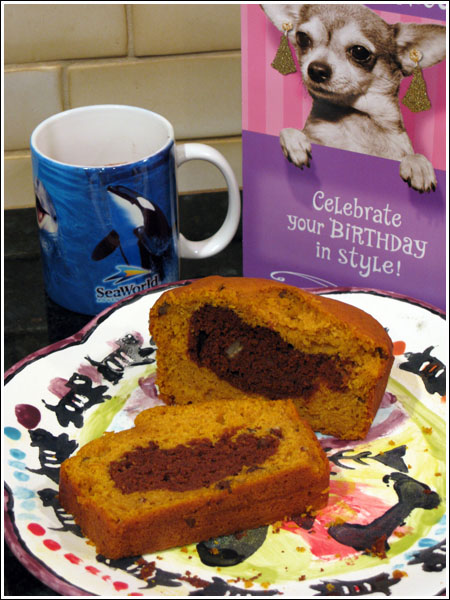 This great little quick bread is a basic pumpkin bread with a generous tunnel of chocolate pumpkin bread in the center. If you use the right amount of flour and don't overbake it, you should end up with a very moist bread that in my opinion, could double as a dessert (though it's not overly sweet). I liked this one a lot and so did Fuzz, who was probably relieved to have something other than a hard boiled egg for breakfast.
Pumpkin Harvest Bread
2 cups all purpose flour (260 grams)
1 tablespoon baking powder
½ teaspoon baking soda
¼ teaspoon salt
1 teaspoon cinnamon
¼ teaspoon cloves
½ teaspoon ginger
½ cup vegetable oil
½ cup milk, whole milk
2 large eggs, room temperature
⅔ cup granulated sugar (140 grams)
1 teaspoon vanilla
1 cup canned pumpkin (you can substitute sweet potato)
½ cup toasted chopped pecans
2 ½ oz melted chocolate, bittersweet
Preheat oven to 350 degrees F. Grease and flour an 8 ½ by 4 ½ or a 9x5 inch loaf pan.
Mix together the flour, baking powder, soda, salt, cinnamon, clovers and ginger; set aside.
Mix oil, milk, eggs, sugar, vanilla and pumpkin together in a mixing bowl. Stir in the flour mixture. Before flour mixture is completely mixed in, add the nuts.
Spoon out exactly 1 cup of the pumpkin mixture and stir it together with the melted chocolate.
Layer half the pumpkin mixture in the pan. Spread the chocolate batter over the pumpkin batter then top with final layer of pumpkin batter.
Bake on center rack for 55 minutes.