Sweet Potato Protein Powder Muffins are 3 oz muffins with about 225 calories and 9 grams of protein. They were originally a way to use sweet potatoes leftover from Thanksgiving. At the time I was also on a protein powder kick, so everything just kind of came together. If you try the recipe, let me know what you think!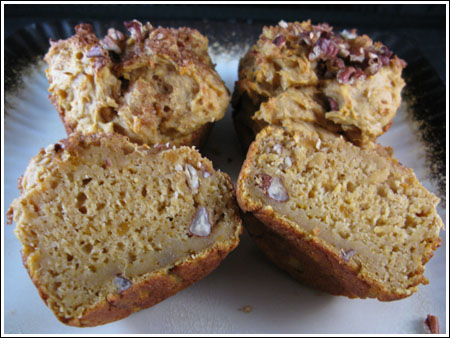 Sweet Potato Protein Powder Muffins
1 cup white whole wheat flour (4.5 oz) – spoon and level if no scale
½ teaspoon EACH baking powder, baking soda and salt
¼ teaspoon cinnamon
2 large egg whites, lightly beaten with a fork
6 tablespoons protein powder
2 tablespoons vegetable oil
⅓ cup vanilla yogurt
1 teaspoon vanilla
2 tablespoons turbinado sugar
1 teaspoon honey
8 ounces mashed cooked sweet potato (slightly heaping cup)
Topping: 1 teaspoon turbinado sugar mixed with ¼ teaspoon cinnamon and 1 ½ tablespoons chopped pecans
Instructions
Preheat oven to 350 degrees F. Spray 6 muffins cups with flour-added cooking spray
Thoroughly stir flour, baking soda, baking powder, salt and cinnamon together in a bowl; set aside.
Combine egg whites, protein powder, oil, yogurt and vanilla and beat well (I just used a spoon) in a medium mixing bowl. Beat in the turbinado sugar, honey and sweet potatoes.
Add flour mixture to sweet potato mixture and stir just until mixed – batter should be thick. If you like, throw in some pecans.
Using a generously rounded quarter cup measuring spoon, scoop up dough and divide evenly between 6 muffin cups. Bake for for 18-22 minutes minutes, or until a wooden pick inserted in center comes out clean. Cool before eating.
Yield: 6 muffins