The texture and cinnamon flavor of real Mexican chocolate is what makes these cookies special. I use Ibarra brand, which you can usually find in the hot chocolate aisle of the grocery store. This is one of my favorite chocolate chip cookies.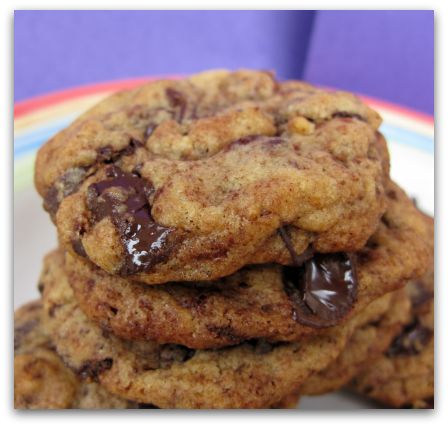 Mexican Chocolate Chunk Cookies Made With Ibarra
MAKES 32 COOKIES
2 cups all purpose flour (9.5 oz/270 grams)
1 teaspoon baking powder
1 teaspoon baking soda
1 teaspoon ground cinnamon
1 teaspoon salt
¼ slightly rounded teaspoon cayenne pepper or black pepper
8 oz unsalted butter -- room temperature -230 grams
1 cup packed light brown sugar -- (8 oz/230 grams)
2 large eggs
1 teaspoon Mexican vanilla (regular is okay)
8 oz dark chocolate -- cut into chunks
4 oz Ibarra chocolate -- chopped by hand
Stir together flour, baking powder, baking soda, cinnamon, salt and pepper.
Cream butter and sugar in a mixing bowl using high speed of an electric mixer; Beat in eggs 1 at a time, then vanilla. Add flour mixture and stir until absorbed, then mix in chocolate chunks and chopped Mexican chocolate. Refrigerate dough for at least one hour.
Preheat oven to 350 degrees F. Line 2 cookie sheets with parchment.
Drop dough by rounded tablespoonfuls onto sheets, spacing 1 ½ inches apart. Bake cookies until golden brown and set - 10-12 minutes. Let stand on sheets 3 minutes. Transfer cookies to racks and cool.