These S'mores Chocolate Chip Cookies are as good as S'mores and a lot less messy. I like adding the marshmallows near the end because it keeps them from drying out. Since I usually make these along with other flavors of cookies, I made this version of the recipe "small batch".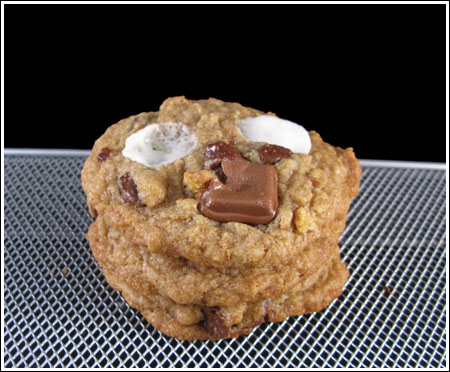 Small Batch S'mores Chocolate Chip Cookies
MAKES 16 COOKIES
1/2 cup plus 2 tablespoons (2.8 oz/80 grams) all-purpose flour
1/2 cup graham cracker crumbs
1/4 teaspoon baking soda
1/4 teaspoon salt
6 tablespoons unsalted butter, softened
1/4 cup granulated sugar
1/4 cup packed brown sugar
1/2 teaspoon vanilla extract
2 tablespoons lightly beaten egg
3/4 cup semi-sweet chocolate
1/2 cup marshmallows
1 regular size (1.45 oz) Hershey Bar, broken into pieces
Preheat oven to 375 degrees F. Line two cookie sheets with parchment paper.
Stir flour, graham cracker crumbs, baking soda and salt together in a bowl.
Cream butter and both sugars in a mixing bowl using high speed of an electric mixer; add vanilla extract and egg and beat for another 30 seconds.
Using a mixing spoon, stir in flour/crumb mixture. When flour mixture is incorporated, stir in chocolate chips.
Drop dough by rounded tablespoons, spacing 3 inches apart, onto cookie sheets; bake one sheet on center rack for 8 minutes. Remove from oven and quickly press marshmallows and milk chocolate into cookies. Return to oven and cook until done (about 3 more minutes).
Let cool on a cookie sheet for 3 minutes, then transfer to a wire rack to cool. Repeat with remaining cookie dough.