Today's recipe is adapted from the recipe site I link to earlier — the one with all the agave nectar recipes. So many of the recipes sounded good, but the one that caught my eye was an agave oatmeal muffin made with ricotta cheese. Along with adding a little extra protein and calcium, ricotta muffins always have a moist texture. And since I'd just made the cannoli, I had some on hand.
These muffins were pretty good. They weren't light, but rather dense and moist with a bit of chew from the oatmeal. The most important thing was that Fuzz liked them, which means I have yet another thing I can give her for our always-hurried breakfasts.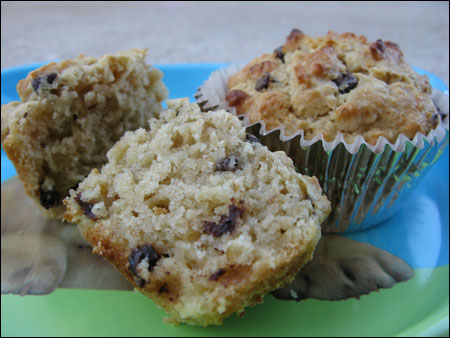 Small Batch Agave Oatmeal Chocolate Chip Muffins
1/2 cup all purpose flour or white whole wheat flour (2 25 oz)
3/4 teaspoons baking powder
1/4 teaspoon baking soda
1/4 teaspoon salt
2 tablespoons plus 2 teaspoons vegetable oil
2 tablespoons lightly beaten egg or egg substitute
1 1/2 teaspoons vanilla
1/2 cup ricotta cheese
6 tablespoons agave nectar
½ cup plus 2 tablespoons quick cooking oats, divided**
1/3 cup miniature chocolate chips (semi-sweet)
Preheat oven to 375 degrees F. Spray 6 muffin tins with flour-added cooking spray or line them with paper liners.
Stir together flour, baking powder, baking soda and salt; set aside.
Using a fork, lightly beat the oil and egg together in a medium bowl. Beat in the vanilla, ricotta cheese and agave nectar. Mix in the oats, then slowly add the flour mixture. When flour mixture is almost but not quite mixed in, add the chocolate chips and stir until flour disappears.
Divide the batter evenly between the muffin cups and bake for 25 minutes.
Cool on a rack and remove from pan.
**If you don't have quick oats, you can pulse old fashioned oats in the blender and sue those instead. Also, if you are short on agave or don't want to use it sparingly, you could try using 3 tablespoons agave & 3 tablespoons of maple syrup. It would change the flavor of the muffins, but I think it would still be good.
***I had to use whole fat ricotta, but next time I'd use low fat or part skim.