After gathering up a dozen or so interesting dessert recipes, I decided all I really wanted this morning was a batch of Whole Wheat Chocolate Chunk Cookies. This is the recipe I used. Thanks to the oil, these are slightly lower in saturated fat than regular chocolate chip cookies and they have a bit of whole grain from the whole wheat pastry flour. Nuts are always welcome in our family, but you can leave them out if you want. If you follow this recipe without making changes, you should get fairly thick cookies with crunchy edges.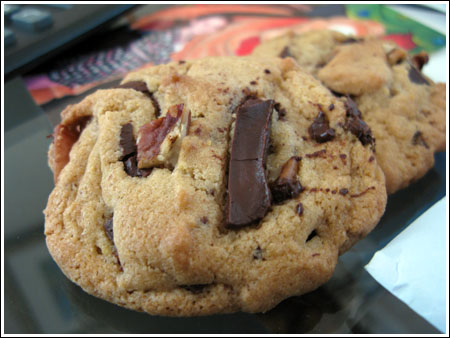 Whole Wheat Chocolate Chunk Cookies
1 cup sifted whole wheat pastry flour (126 grams) (sift and then measure)
1/2 cup all-purpose flour (63 grams)
1/2 teaspoon baking soda
1/2 teaspoon salt
4 tablespoons unsalted butter, cold and cut up (58 grams)
1/4 cup vegetable oil (56 grams)
1/2 cup granulated sugar (98 grams)
1/4 cup dark brown sugar, lightly packed (50 grams)
1 teaspoon vanilla extract
1 large egg
1 cup chopped semi-sweet or bittersweet chocolate
1/2 cup toasted chopped pecans
Preheat the oven to 375 degrees F. Line a cookie sheet with parchment paper.
Stir together the sifted whole wheat pastry flour, all purpose flour, baking soda and salt; set aside.
Using the paddle attachment of a stand mixer, beat the cold butter until it is creamy. Add the oil and both sugars and continue to beat until sugar is creamed (about a minute). Add the vanilla and egg and beat just until egg is mixed in, scraping sides of bowl once or twice. Add the flour in two parts either by hand or using the lowest speed of stand mixer. When flour is mixed in, stir in the chocolate and toasted nuts. Batter should be thick and cold, but not dry. Drop by tablespoonfuls onto baking sheet and bake for about 12 minutes. Let cool on cookie sheet for 3-5 minutes, then transfer to a wire rack to cool completely.
About 16 to 18 Cookies – This is just an estimate since I haven't baked all the dough.