This is a popular chocolate chip cookie, and considering the recipe is from David Lebovitz'  The Great Book of Chocolate
, that is not surprise.  These are very good chocolate chip cookies.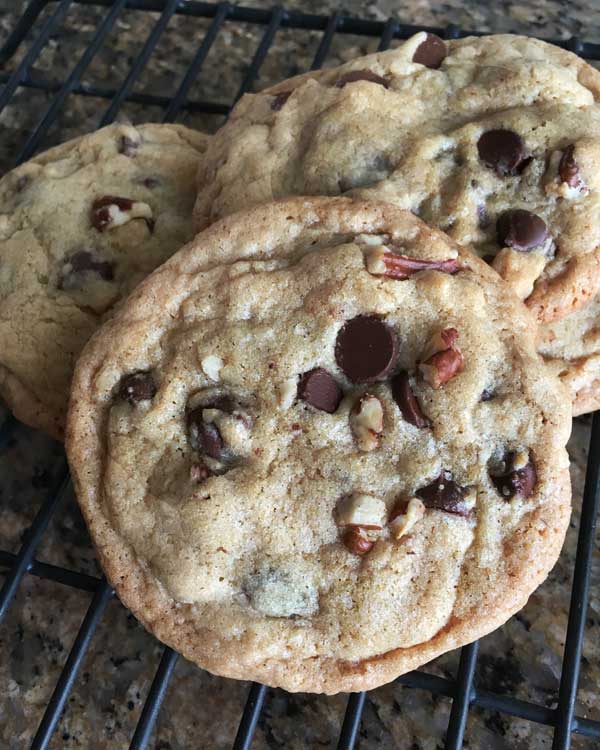 What's interesting about this recipe is that the cookies are baked at 300 degrees in the upper third of the oven. I wasn't sure what to expect baking cookies near the top of the oven, but what I got were big, chewy, bumpy cookies with nicely rounded edges. They were definitely Grade A.
If you are familiar with the original recipe, you'll notice I changed a few measurements. I used slightly fewer chips & nuts and adjusted the volume amount of flour to match the grams. If you weigh your flour this is a non-issue, but a lot of people use 4.5 oz/126 grams per cup so a measurement of 175 grams would actually be a good 1 ⅓ cups of flour. Not that the original recipe is wrong, because some people use a standard of 5 oz/140 grams per cup.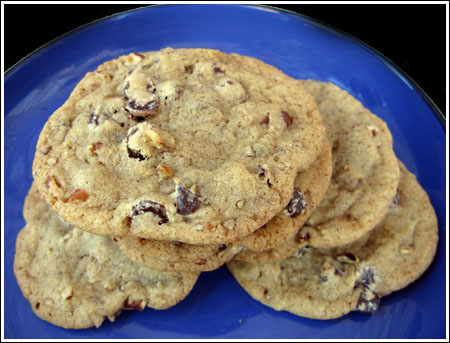 Recipe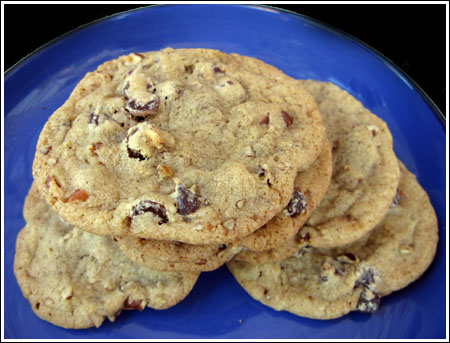 A Popular Chocolate Chip Cookie Recipe
Chewy, sweet, chocolate chip cookies adapted from The Great Book of Chocolate. When I make these I use the gram measurements rather than the volume. Like biscotti or other cookies that kind of dry out when cooked at a low temperature, these cookies are crisp throughout when baked for slightly longer. For a chewy cookie, just reduce the bake time.
Ingredients 
½

cup

granulated sugar

100 grams

½

cup

very firmly packed light brown sugar

120 grams

8

tablespoons

unsalted butter, cold, cut up

(115 grams)

1

large egg

1

teaspoon

vanilla extract

½

teaspoon

baking soda

1 ¼ to 1 ⅓

cups

all-purpose flour

175 grams

¼

teaspoon

plus an extra pinch of salt

I used a scant ½ teaspoon

1 ⅓

cups

semisweet chocolate chips

¾

cups

pecans

toasted and chopped
Instructions 
Adjust the oven rack to the top third of the oven and preheat to 300F (150C).

Cream cold, cut up butter and sugar with an electric mixer. When smooth, beat in the egg, vanilla, baking soda and salt.

Scrape sides of bowl and make sure salt & soda are well distributed, then add the flour and stir by hand until it has almost disappeared. Add the chocolate chips and toasted nuts and stir until mixed in.

Shape the dough into 2 inch balls and place about 3 to 4 inches apart on parchment lined cookie sheets. Press tops down slightly. Bake for 18-22 minutes or until cookies are a golden brown.

Remove from the oven andlet cool on a wire rack.
Notes
For the flour I used the gram amount of 175 grams. The volume amount will vary based on type of flour, humidity and how your scoop.