This past weekend Costco had giant bags of dried blueberries for $10.00. I don't care much for dried blueberries, but it was such a good deal I bought the berries and used some in these cookies. I'm calling them Crunchy Blueberry Oatmeal Cookies because they've got a great crunchy texture. They are on the sweet side so make sure you add the full cup of pecans to cut the sweetness. I think cutting the sugar itself might ruin the texture.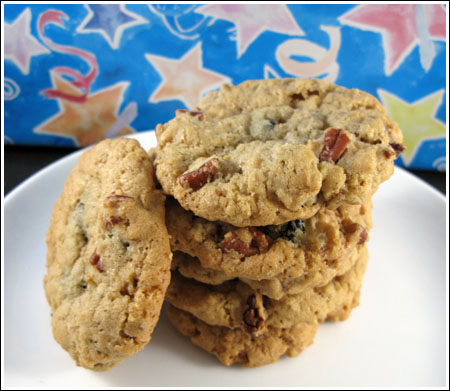 Crunchy Oatmeal Blueberry Pecan Cookies
1/2 cup (96 grams) shortening
1/2 cup (96 grams) granulated sugar
1/4 to 1/2 cup (50-100 grams) lightly packed light brown sugar**
1 large egg
1 teaspoon lemon zest
3/4 teaspoon (3 ml) vanilla
1/2 teaspoon (2 ml) salt
1/2 teaspoon (2 ml) baking soda
3/4 cups (100 grams) all purpose flour
1 1/2 cups (120 grams) oatmeal
1 cup pecans, chopped and toasted
1/2 cup dried blueberries
Preheat oven to 350 degree F. Line two cookie sheets with parchment paper.
Cream shortening and sugar in a mixing bowl. When light and fluffy, beat in the egg, lemon zest and vanilla. Add the salt and baking soda; stir until very well mixed, then stir in the flour, followed by the oatmeal, dried blueberries and pecans.
Shape dough into small balls and place on a parchment lined cookie sheet. Flatten slightly and bake 12-14 minutes or until golden.
Makes about 2 ½ dozen
**Revised.  The original recipe used 1/2 cup of brown sugar, but I thought the cookies were a bit too sweet.  I think they'd be better with 1/4 cup.