Curry Coconut Oatmeal Chocolate Chip Cookies are based on a recipe from my friend Mary Ann who has a blog called The Cookery. She told me about the recipe years ago at a swim party in Austin, and I remember being so anxious to go home so I could put curry in oatmeal cookies. Mary Ann has since moved to New York and I've moved to Raleigh, but the cookie recipe remains right here on Cookie Madness :).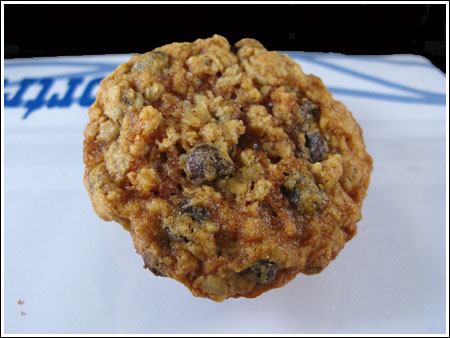 There was a story that went with this, but (unlike the cookies) it was boring so here's the recipe.
And FYI the original version was vegan so these will surely work with your favorite vegan plant butter and perhaps a flax egg (2 ½ tablespoons of water and 1 tablespoon flax) in place of the egg.
Curry Coconut Oatmeal Chocolate Chip Cookies
4 oz unsalted butter (114 grams)
½ cup plus 2 tablespoons granulated sugar (120 grams)
¼ cup brown sugar (50 grams)
1 large egg
1 tablespoon milk, soy or regular milk (15 ml)
1 tsp. vanilla extract (5 ml)
½ cup plus 6 tablespoons unbleached all purpose flour (110 grams)
½ tsp. baking soda (2 ml)
1 Tbs. curry powder (15 ml)
½ tsp. sea salt (if you're using salted butter, skip this)
1 ½ cups rolled oats (120 grams)
1 cup chocolate chips
½ cup shredded unsweetened coconut (40 grams)
Preheat oven to 375 degrees F.
Cream the butter and sugars with an electric mixer. Beat in the egg, milk and vanilla.
Whisk together the flour, baking soda, curry powder, and salt. Gradually stir the flour mixture into the egg mixture until they are almost fully mixed in. Add the oats, chocolate and coconut and stir until everything is full blended.
Shape dough into golf ball size balls and place 2 inches apart on ungreased cookie sheets. Bake for 10-12 minutes. Let them cool for 1 minute on the baking sheet and then transfer them to a wire rack to finish cooling.
Makes about 1 ½ dozen