Not long ago, Fuzz learned how to ride a bike. Over the past few weeks she's grown more and more confident and now she's a bicycle maniac. To celebrate, we're taking her to Santa Monica to ride bikes on the beach trail. If you don't hear from me tomorrow, that's why, but I'll try to check in. Some friends have recommended various L.A. bakeries and I might have to report back.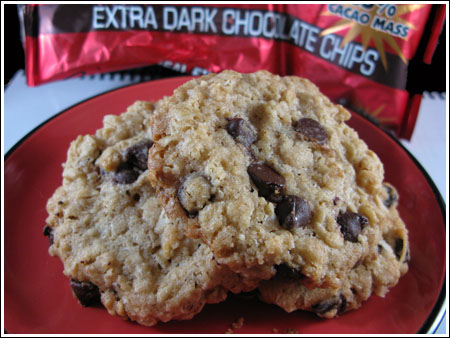 But I do have some cookies today, and they will conclude the series of oatmeal-chocolate-chip which I've been baking for a friend. I baked up more dough from the other 3 batches this morning and they are all fairly chewy. So to add some crunchy cookies to the mix, I made a recipe from one of my most trusted cookbooks, the KA Cookie Companion. If you like crunchy, these are guaranteed winners because along with being crunchy, they are fairly thick.
Oh, and I've been meaning to tell you about the chocolate chips I'm using this week – Guittard's Double Dark Chocolate Chips. Nicole reviewed them 6 months ago on Baking Bites and I've been patiently waiting for their arrival. If you live in Austin, check H.E.B.
Essential Crunchy Oatmeal Chocolate Chip Cookies
¾ cup brown sugar (170 grams)
¾ cup granulated sugar (150 grams)
8 tablespoons unsalted butter (114 grams)
½ cup vegetable shortening (91 grams)
1 teaspoon salt
1 teaspoon baking powder
2 teaspoons vanilla extract
1 large egg
1 cup unbleached all-purpose flour (120 grams)
3 cups rolled oats (300 grams)
2 cups chocolate chips
1 cup (4 ounces) diced pecans or walnuts (optional)
Preheat the oven to 325°F. Line some cookie sheets with parchment paper
Cream the sugars, butter and shortening with an electric mixer. Beat in the salt, baking powder and vanilla, scraping sides and beating until smooth. Beat in the egg, then add the flour, followed by the oats. Stir in chocolate chips and nuts.
Drop the dough by tablespoonfuls onto the prepared baking sheets. Using the flat bottom of a drinking glass dipped in sugar or the back of a spoon (which is what I used), flatten each ball of dough to about ¼-inch thick.
Bake the cookies for about 20 minutes, until they're golden brown. These are supposed to be crunchy, so don't underbake them. Remove them from the oven
Makes 4 dozen cookies