This afternoon I found a stash of unprocessed wheat bran in the freezer, and since I haven't made any in a while, I used it yet another good bran muffin recipe. My favorite bran muffin recipe is probably this one from Epicurious, but this one is a close second. It's adapted from Joy of Baking.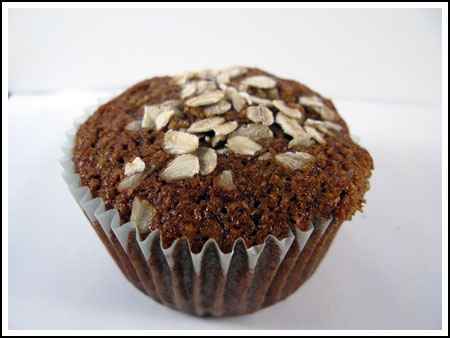 Below is a half batch of the original with some small changes. I used salted butter, soaked the bran in coffee instead of water and doubled the vanilla. Also, instead of baking the batter as needed, I just baked all the muffins at once. These didn't rise very much, but they were dense and sweet and Fuzz and her friend gobbled them up.
Another Good Bran Muffin Recipe
3/4 cup (38 grams) wheat bran
3 tablespoons (45 ml) hot coffee
4 tablespoons (60 grams) unsalted butter
1/2 cup (105 grams) light brown sugar
1 large egg
1 tablespoon mild molasses (20 grams)
1 teaspoon vanilla
1/2 cup (70 grams) all-purpose flour or white whole wheat flour
1/2 cup (70 grams) whole wheat pastry flour
1/3 cup (35 grams) old-fashioned rolled oats (not instant)
1/2 teaspoon ground cinnamon
1/8 teaspoon salt
1 teaspoon baking soda
1/2 teaspoon baking powder
6 tablespoons (90 ml) milk
6 tablespoons (90 ml) buttermilk or sour milk** — sour by adding 1 tsp. vinegar
Preheat oven to 375 degrees F (190 degrees C). Line a 6 cup muffin pan with paper liners or spray with cooking spray.
Combine bran and coffee. Set aside.
Cream the butter and brown sugar with an electric mixer.
Beat in the egg, vanilla and molasses. Beat in the bran.
Mix together the flours, oats, cinnamon, salt, baking soda and powder.
Combine the milk and buttermilk (or soured milk).
Add the flour mixture, alternately with milk, to the bran mixture, beginning and ending with the flour mixture.
Fill the muffin cups almost to the top, sprinkle with some oats to garnish (if desired), set pan on a cookie sheet and bake for about 20 minutes or until a toothpick inserted into the center of a muffin comes out clean. Remove from oven and place on a wire rack to cool slightly before serving.
Makes 8 muffins