While Fuzz made popsicles, I made Frozen Pineapple Cheesecake. It's a no-bake cheesecake which won first place at the Maui Pineapple Festival in 2000. The recipe is by Kristine Snyder, who lives in Hawaii, plays the harp and wins lots of recipe contests. Kristine's a great cook and I didn't want to mess with perfection, but I still added a little vanilla because I like how pineapple and vanilla taste together.
This reminded me of millionaire pie, but classier and with no nuts. The pineapple glaze is the finishing touch, but if you don't feel like making glaze you could just garnish with pineapple sundae topping.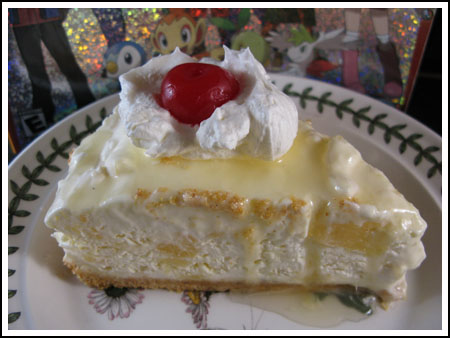 Frozen Pineapple Cheesecake
1 cup graham cracker cups --
¼ cup granulated sugar – 48 grams
¼ cup butter, melted – 60 grams
8 oz cream cheese, softened – 230 grams
¾ cup granulated sugar – 144 grams
¼ teaspoon vanilla extract
3 large eggs, separated**
1 ¼ cups heavy whipping cream --280 grams
1 can (16 oz) crushed pineapple, drained – juiced reserved
Topping:
⅓ cup granulated sugar
1 tablespoon cornstarch
⅓ cup pineapple juice
1. Rub a 9 inch springform pan with butter.
2. Mix crumbs and sugar together in a large bowl, then add melted butter and stir until mixed. Press into bottom of the pan and put in freezer until ready to fill.
3. Beat the cream cheese, ¾ cup of sugar, vanilla and egg yolks together in a large mixing bowl. Set side.
4. Beat the whites in a separate bowl, then fold them into the batter.
5. Beat the cream into stiff peaks, then fold the cream into the batter.
6. Fold the well-drained pineapple into the batter and pour into the pan. Freeze for about 4 hours.
7. Make topping. Mix together the sugar and cornstarch in a small saucepan. Slowly whisk or stir in pineapple juice and turn heat to medium. Bring to a low boil, stirring constantly, until mixture thickens and clears. Let cool. Pour over cheesecake and return to freezer until ready to serve.
Serves about 8
**If you're concerned about raw eggs, use the pasteurized kind.