Some friends are celebrating the release of the Julie & Julia movie by making French food and drinking French wine. I couldn't go to the party, so I decided to celebrate at home by making Julia's famous Queen of Sheba cake, which Julia says was the first French cake she'd ever tasted.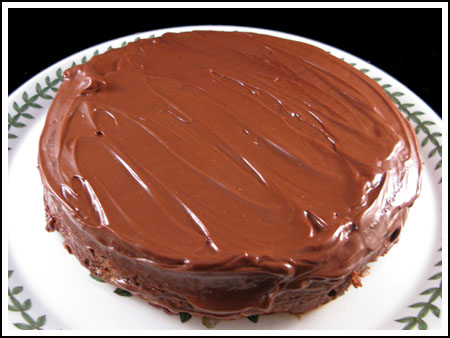 The recipe looks simple on paper, but it's one of those cakes where little things like sifting before measuring, using the right size pan, the right type of flour and folding properly are absolutely critical to its success. It's soft, has a bit of almond flavor and an almond meal texture, very chocolaty (use the best), and has an ultra-rich glaze that's spread relatively thin but is every bit as satisfying as a thick layer because it's mostly butter.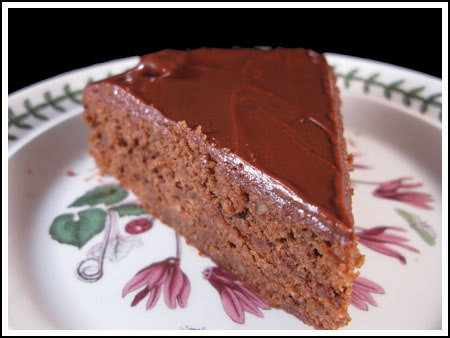 Like its namesake, the Queen of Sheba cake was enticing. Fuzz saw me cutting a piece, put away her popsicle, and asked if she could have cake too. She asked for more (I said no) so I guess you could say it's kid friendly -- at least if you make it with brewed coffee, which is what I used. Next time, rum!
Here's a cut photo. I'll probably do a re-take photo tomorrow, but it's late and I want to go watch TV.