That saying, "Never cook with a wine you wouldn't drink" doesn't mean much to me because wine I won't drink is exactly what I cook with. A disappointing bottle of red means Coq au Vin (or red wine cake!) the next day, and it always tastes better than the wine.
In the September issue of Food and Wine, Kristin Donnelly does a great job addressing the subject and says that the old never cook with wine you won't drink "mantra" arose back when people used cooking wine, the salty, acrid "plonk" they kept near the vinegar. She points out how you obviously wouldn't want to use a corked or spoiled wine in cooking, but a wine that is merely disappointing, might be a great choice.
Such was the case with last night's red wine cake -- a Food and Wine recipe inspired by Ann Willan. I'd splurged on what the wine guy told me was an excellent Pinot Noir from a small vineyard in Carneros, my favorite Pinot Noir region. After spending twice what I usually would, I was very disappointed. The wine barely tasted like Pinot Noir and I could think of a lot of cheaper wines that were much better.
In the past, I would have called up the old saying "Life is too short to drink bad wine" and thrown the wine out, feeling guilty all the while. But these days, I bake with it.  And knowing I can do that makes me less apprehensive about trying new wines.
Finally, the cake was really easy and more convenient (and delicious) than chicken or steak with red wine sauce. The texture is soft, there's plenty of chocolate and the wine adds a little fruitiness. Since the cake is soft, moist and pretty sweet, I left off any glaze or frosting and just used fresh whipped cream. The pinot noir left a very subtle fruit taste, but I think it would have been even better with Cabernet or Red Zin. Then again, I rarely find a red zin I don't want to drink straight!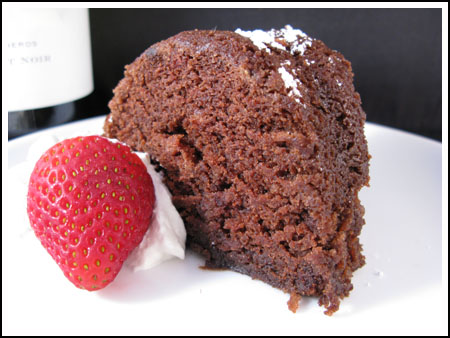 Recipe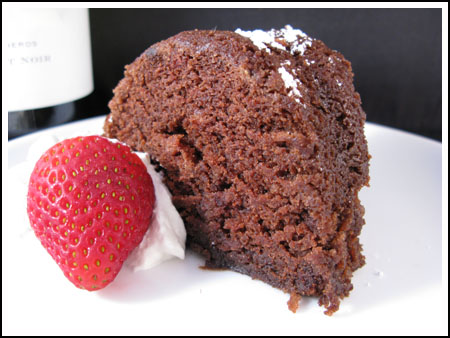 Red Wine Cake
A rich chocolate Bundt cake made with red wine
Ingredients 
2

cups

all-purpose flour

9 oz -- spoon and sweep

¾

cup

unsweetened cocoa powder

not Dutch process

1 ¼

teaspoons

baking soda

½

teaspoon

salt

2

sticks unsalted butter

softened (8 oz)

1 ¾

cups

sugar

2

large eggs

1

teaspoon

pure vanilla extract

1 ¼

cups

dry red wine

Confectioner's sugar

for dusting

Whipped cream

for serving
Instructions 
Preheat the oven to 350 F. f using a black Bundt pan, 325 F. I always use 325 F.

Grease and flour a 12-cup bundt pan or spray it with flour-added cooking spray.

Whisk the flour, cocoa powder, baking soda and salt together in a bowl.

Cream the butter and sugar in a large mixing bowl using a hand-held mixer. Beat for about 4 minutes. Add the eggs and beat until incorporated. Beat in the vanilla, scraping sides of bowl. Beat for about two minutes.

By hand or using lowest speed of mixer (best by hand) add the flour mixture and wine alternately beginning and ending with flour mixture.

Pour into pan and bake on center rack for 45 minutes or until a tester inserted comes out clean. Let cool for 10 minutes. Flip from pan.