I rarely pull out my mini muffin tins, and that's a shame because mini muffins are just so cute. I especially like One Bite Carrot Muffins.  This recipe is stuffed with good things –whole grains from the flour (though you can use all purpose), carrots, coconut and toasted nuts.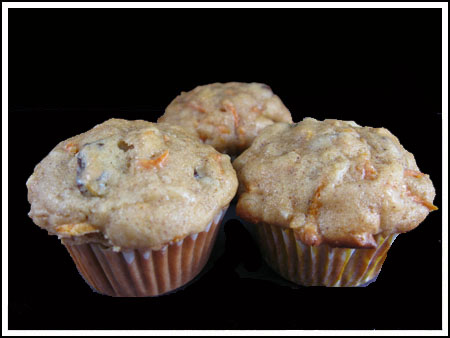 I think the muffins would be good with frosting, but they were great without so I left mine as is.
Also, the only salt in this recipe comes from what's in the butter and sour cream, so if you use unsalted butter, you might want to add a pinch.
One Bite Carrot Muffins
1 ½ cups white whole grain flour or all-purpose flour (7 oz)
1 teaspoon baking soda
1 teaspoon cinnamon
⅛ teaspoon salt
4 tablespoons regular salted butter
½ cup firmly packed brown sugar (golden or dark)
1 teaspoon vanilla extract
2 large eggs
1 cup regular sour cream
1 cup shredded carrots
¾ cup flaked coconut
½ cup raisins
½ cup finely chopped, toasted pecans
Preheat oven to 375 degrees F. Line 30 mini muffin cups with paper liners. If your pan only has 24 little indentations, you'll have some extra batter to bake separately.
Mix the flour, baking soda and cinnamon together and set aside.
Beat the butter and brown sugar with an electric mixer until fluffy. Beat in the vanilla and eggs. Beat for 1 minute, scraping bowl, and using lowest speed or by hand, stir in the sour cream. Add the flour mixture and stir gently until mixed, then stir in the carrots, coconut, raisins and pecans.
Divide batter evenly among muffin tins – it should be thick and come up to the top.
Bake on center rack for 15 minutes or until a toothpick inserted in a muffin comes out clean.
Alternatively, you can make these in regular size muffin tins and bake for 25 minutes, in which case you should get 12.
(Adapted from Taste of Home)