Sunday afternoon Fuzz and I attended the Austin Food Bloggers cookie swap.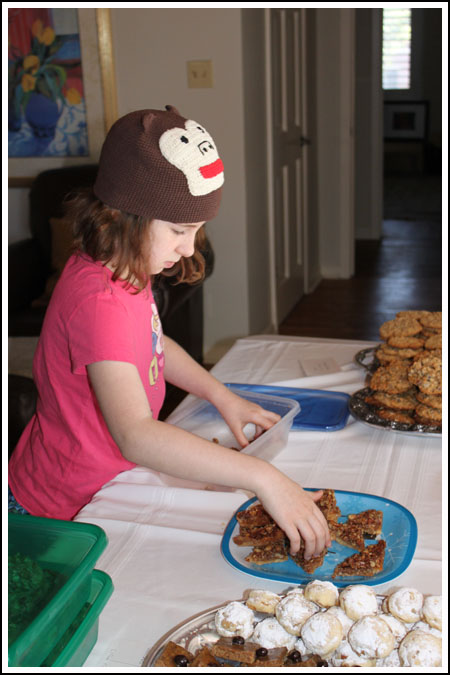 Organized by Addie Broyles of the Statesman and co-hosted by some of Austin's best food bloggers, the swap took place at a lovely house in Tarrytown with a bright, beautiful kitchen. Of course with 30+ bloggers in attendance, each bringing 6 dozen cookies, the swap took over not just the kitchen, but the living room, dining room and back porch.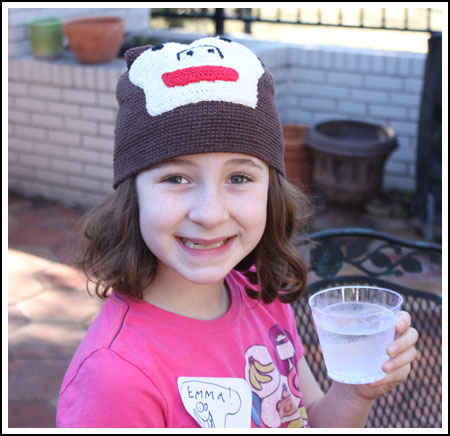 Cookies were everywhere – as were bloggers, so I spent more time meeting and catching up with friends than photographing cookies and taking notes. But I did manage to grab a few good cookie swap photos, the first being macaroons.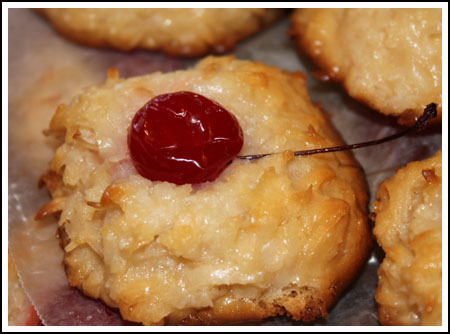 These simple cookies caught my eye and I couldn't figure out what it was that made them so visually appealing. Then someone mentioned the stems. It was the stems that did it! Next time I make macaroons, I will use stem-on cherries. And I did catch that the macaroon recipe was this state fair winner from allrecipes.com.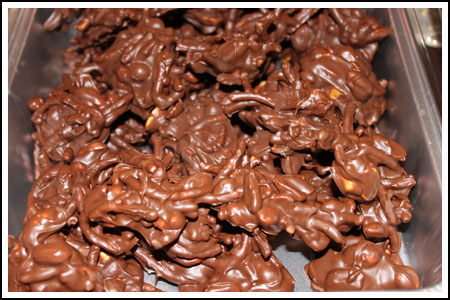 Another item I was particularly fond of and which fell into the "simple but awesome" category was this Chinese New Year Candy prepared by Austin Epicurean. It's a popular recipe and one his family had been making for years, yet I'd never heard of it.
And then there were the Italian Wine Cookies.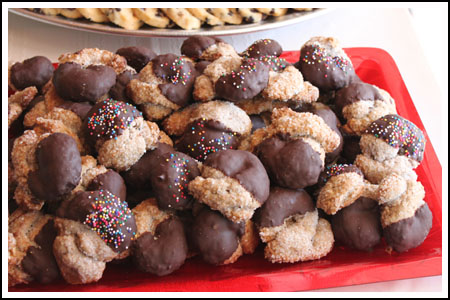 What I liked about the wine cookies, aside from the interesting shape and that they called for wine, was how the cookie combined the sophisticated with the whimsical. That is, a not-too-sweet cookie with alcohol in it with a touch of chocolate and brightly colored sprinkles. If I can get it, I'll share the recipe from the swap. For now, I found this wine cookie recipe which seems close and got good reviews.
Now those are just the three cookies I managed to take good close-ups of, but there were many others and I have loads of them here in the kitchen. Today I'm sorting them out, putting them in freezer bags, and will serve them to whoever is around. But Fuzz and I both agreed it was the best cookie exchange ever.
I'll try to round up a few more links and recipes from the swap as the week goes on.