Yesterday I wrote about chocolate chip cookies with pudding and said they were a little cakey for my tastes and not quite chewy enough. They were good –definitely better after they'd sat around for a few hours, but just anot my favorite texture and type of cookie.
Since I'm being finicky, I figured I'd post a refresher with my current Top 5 chocolate chip cookie list. The list is always evolving, and these 5 just happen to be the ones that I've turned to lately because I like them, they're convenient, and because friends have been impressed.
1.  The latest greatest cookie I've fallen in love with is from a Unix programmer. Sadly he died, but he left (those of us who can't appreciate the Unix books) a cookie recipe. On paper, the recipe doesn't look that original, but the technique he uses of adding the egg little by little results in a cookie with crispy edges, chewy centers and lots of nooks and crannies. You really need a stand mixer for this one, so I included it in the title.
Unix Programmer's Cookies Ultimate Stand Mixer Chocolate Chip Cookies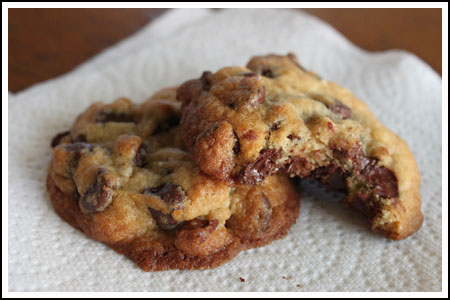 2.  Carla Rollins Cookie – This one will always be in my Top 5 Chocolate Chip list because I love the flavor and texture and have been making it for years for people I care about. Out of all my cookies, I think it's the one that gets the most "Did you buy these?" queries.   Sorry the photo is so old.
Carla Rollins Cookie from Gourmet
3.  For Thin and Crispy cookies, my favorite is still Alexis Stewart's Chocolate Chip cookies. It took me a while to get the recipe to work (issues with the flour, I suppose), but once I did I was happy. Not everyone has good luck with this recipe, but I'd be lying if I didn't say this was the one I turned to when I wanted thin and crispy.
Alexis Stewart's Chocolate Chip Cookies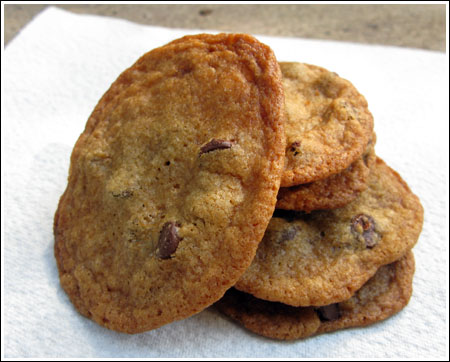 4.  Cooks Illustrated New Chocolate Chip Cookie Recipe – This is another one I make quite frequently. It's not perfect, but it's has a chewy texture and a real toffee-like flavor from the browned butter. It's also really easy to whip up when I have a craving.
Cookies Illustrated Chocolate Chip Cookie Version 2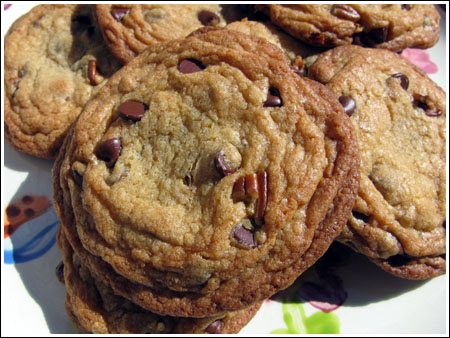 5.  For number 5, I'm going to have to go with Alton Brown's. Remembering to buy bread flour is the only issue I have with this recipe. Other than that, it's very good. For some reason, I don't have a photo handy.
Alton Brown's "The Chewy" Chocolate Chip Cookie
Extras:  And then there are a couple that I love, but which I always forget about because I'm either too busy trying new cookies or I've turned to one of the Top 5.
David Lebovitz's Chocolate Chip Cookies were excellent that one time I made them and his technique of baking them on the top rack of the oven is kind of interesting. I need to make these again.
Mrs. D.'s Chocolate Chip Cookies aka Chocolate Chip Cookies with Heath Bars. With or without the toffee, Mrs. D.'s recipe is a good one. It's not as buttery as the ones above, but it's a handsome and sturdy cookie that you can pack a lot of chocolate into.
Mrs. D.'s Chocolate Chip Cookies (with Heath Bars)