I like today's cookie and not just because the name reminds me of a monster truck. "Vroom Vroom Watch out, Gravedigger! I'm the Minnesota Muncher and I'm going to crush you like you were made of Cornflakes. Vroom!"
Minnesota Munchers Story
This is a special cookie, and the story behind it goes something like this -- Marcia Severson (of Minnesota) created the recipe for a contest sponsored by Taste of Home.  She named her cookies Minnesota Munchers with 3 extra "M"s before the "M" in Minessota.  To pick the winner,  Taste of Home's publishing company put the cookies out for tasting in their Wisconsin visitor center, where they let the public decide.  The Munchers destroyed the competition.
Rather than just publish the top secret recipe, Taste of Home turned the cookie into a mix and sold it at their country store.   I couldn't find the mix for sale on-line, but I did find a very popular clone which appears whenever you search for "Minnesota Munchers".  This allrecipes.com version is pretty much the same as the other clones which include milk chocolate chips, semi-sweet chocolate chips, pecans, toffee chips, brown sugar and in some cases, cinnamon.
Texture Notes
Now if there's anything I like more than a monster truck rally, it's crunchy cookies, so I was a little disappointed to find these cookies were rather soft. Still, after the chocolate set and the cookies firmed up a bit, they were quite satisfying with a lot of interesting flavors and textures. The milk chocolate Toblerone, which I used in place of the milk chocolate chips, was a good call. And while the cookies were on the sweet side, they were far from being overly so.
Changes I made to the original were as (mostly) follows: I cut it in half, adjusted the salt because I used unsalted butter, omitted the cinnamon, and used milk chocolate Toblerone in place of the milk chocolate chips, plus other stuff. Despite all my changes, my photo looks almost the same as the cookie in the allrecipes.com photo.
Recipe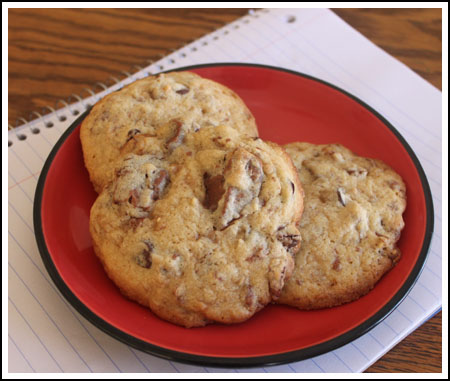 Toblerone Minnesota Munchers
Toblerone Minnesota Munchers are drop cookies with chopped up Toblerone, toffee chips and pecans.
Ingredients 
1

stick

unsalted butter, cold and cut into chunks

(114 grams)

¾

cup

packed light brown sugar

(150 grams)

½

scant teaspoon salt

1

teaspoon

vanilla extract

1

large egg

room temperature

1 ¼

cups

all-purpose flour

(160 grams)

½

teaspoon

baking powder

3

oz

milk chocolate Toblerone, chopped

(84 grams)

½

cup

extra dark or dark chocolate chips

¼

cup

Heath Bits o' Brittle toffee chips

½

cup

pecans

toasted and chopped
Instructions 
Preheat oven to 350 degrees F. Line a cookie sheet with parchment paper. If you plan on chilling the dough, skip this step.

In bowl of a stand mixer fitted with a paddle attachment, cream the butter and brown sugar. While the mixture is creaming, add the salt and vanilla, scraping down sides of bowl. Add the egg and beat just until it is mixed in.

Thoroughly mix together the flour and baking powder. Using lowest speed of mixer or by hand, stir the flour mixture into the egg mixture. Stir in the Toblerone, dark chocolate chips, Heath bits and toasted pecans.

Shape dough into large balls – a little larger than a golf ball, but way smaller than a tennis ball. Chill the balls of dough until ready to bake or bake immediately.

To bake, arrange dough balls 3 inches apart on parchment lined cookie sheet. Press the balls down slightly to make flat tops. Bake for about 15 minutes on center rack.

Makes about 20 depending on how you interpret my sizing of golf balls & tennis balls.