It took a week of back-to-back trials to find a yellow cake I loved, but I've made dozens of chocolate cakes over the past few years and can't think of one that wasn't great. The problem is that I still can't pick a favorite chocolate cake! If only all of life's problems were such. This weekend's cake was part of my ongoing attempt to find an all-time favorite chocolate layer cake. Was this it?  It's a cocoa layer cake, in that the only chocolate used is unsweetened cocoa powder.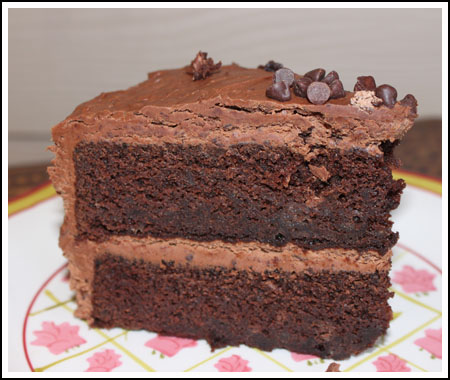 All the Best Chocolate Cake Ingredients!
This cake was posted by Katy in the Readers' Favorite Cake Comment Thread I created a while back and resurrected this morning.
The recipe calls for promising chocolate cake ingredients such as cocoa powder, butter, buttermilk, and a combination of brown sugar and white. It doesn't have any coffee, but that would be an easy addition since the cake does call for a cup of boiling water.
Another good thing about this cake was that the layers were thick. It was a 9-inch round cake made in two pans as opposed to 3, and I think I'm starting to like that higher cake to frosting ratio.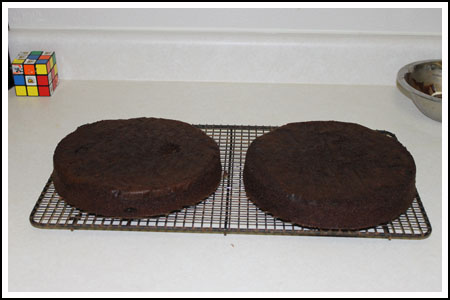 This cake was dense and moist. The first photo the cake is cold so it appears even denser. But it was also quite moist at room temperature.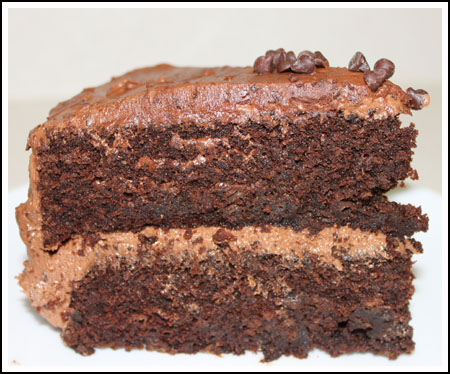 Thanks to Katy for yet another great chocolate cake. The frosting is my new favorite and one I adapted from Southern Living. I added a little buttermilk instead of regular milk and it tasted pretty good.
Favorite Cocoa Layer Cake with Chocolate Frosting
1 cup boiling hot water (or coffee?)
¾ cup (75g) natural unsweetened cocoa
2 cups (260g) all-purpose flour
1 ½ teaspoons baking soda
¾ teaspoon sea salt
1 cup (200g) superfine sugar
1 cup (240g) golden brown sugar
2 sticks unsalted butter, cool room temp
4 whole eggs (large), cool room temp, lightly beaten
¾ cup (6 ¼ oz) buttermilk, cool room temp
2 teaspoons vanilla extract
1 teaspoon chocolate extract (optional) -- did not use
Buttermilk Frosting (Below)
Directions
1: Preheat oven to 350 degrees F. or 325 F if using black cake pans.
2: Grease and flour 2 9 inch round pans and line with parchment
3: Combine water and cocoa in a bowl and stir until smooth. Reserve.
4: Sift together dry ingredients. Reserve.
5: In large bowl of an electric mixer, cream butter and sugars.
6: Beat in eggs and vanilla. Stir buttermilk into cocoa mixture.
7: Add alternately with dry ingredients in 3 additions.
8: Pour into pans.
9: Bake 28-38 minutes (see note) or until a toothpick comes out barely clean. Cool and frost.
Chocolate Buttermilk Frosting
2 oz unsweetened chocolate
2 oz semi-sweet chocolate
8 oz unsalted or salted butter, softened and not too cold
¼ cup unsweetened cocoa powder
4 cups sifted powdered sugar (3 ½ cups unsifted)
¼ cup buttermilk (or regular milk plus more if needed)
2 teaspoons vanilla
Pinch or two of salt
Chocolate Frosting:
Melt both chocolates in microwave, double boiler or bowl set over barely simmering water; set aside to cool.
Beat the butter until creamy. Stir in the cocoa power, about a cup of the powdered sugar, and the cooled melted chocolate. Scrape sides of bowl and beat well; add remaining powdered sugar, then add milk, vanilla and salt, beating and scraping until you get the consistency you like.
Notes:
--I used dark pans and baked at 325 degrees F. Bake time was about 38 minutes.
-- The recipe makes a lot of batter and it comes almost to the top of two 9 inch round cake pans. To be safe, you might want to put a cookie sheet on the lower baking rack to catch any drips. I did, but luckily it didn't drip.