This is one of my older posts, but I recently updated the photos and added a few notes. Chocolate Pudding Cake is just so under-rated! It's like chocolate cake and (with ice cream) a hot fudge sundae all in one! And it's so easy. I made the last batch using half the ingredients listed in this chocolate pudding cake recipe and baked it in a small Le Creuset casserole dish I picked up at Home Goods.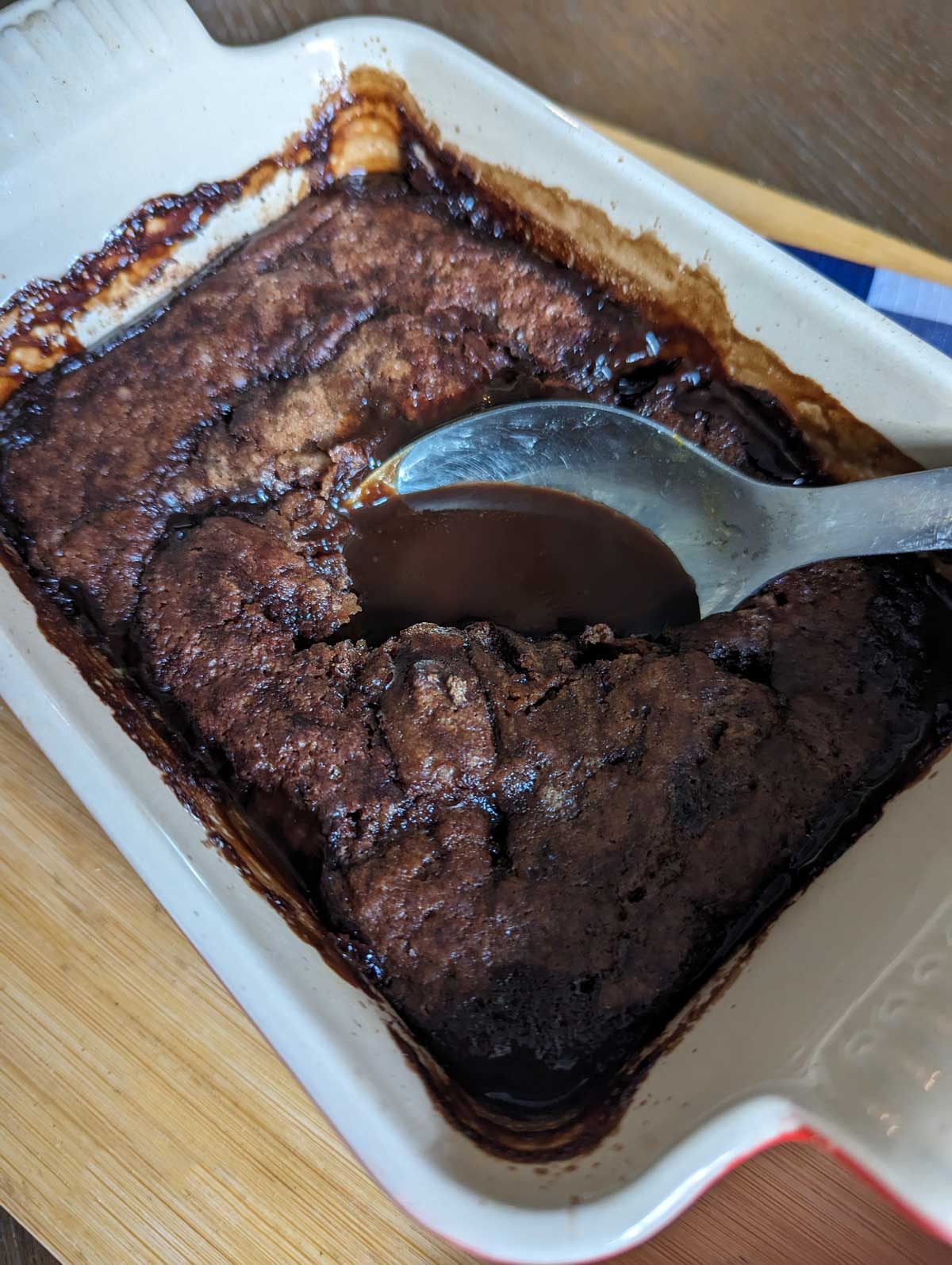 Chocolate Pudding Cake From 2010
My stepmother has been baking a lot. She's always been an avid cook, but lately she's been cranking out sweets. She even made my almond toffee for the first time, which was a big deal because until now it was my signature contribution to holiday get togethers. Our joke is that I can now shove it off to her, which is a good thing because my dad and stepbrothers are crazy for it. So I'm loving my stepmom's baking as of late and am happy we're swapping recipes.  Pat's Chocolate Pudding Cake recipe is one of them.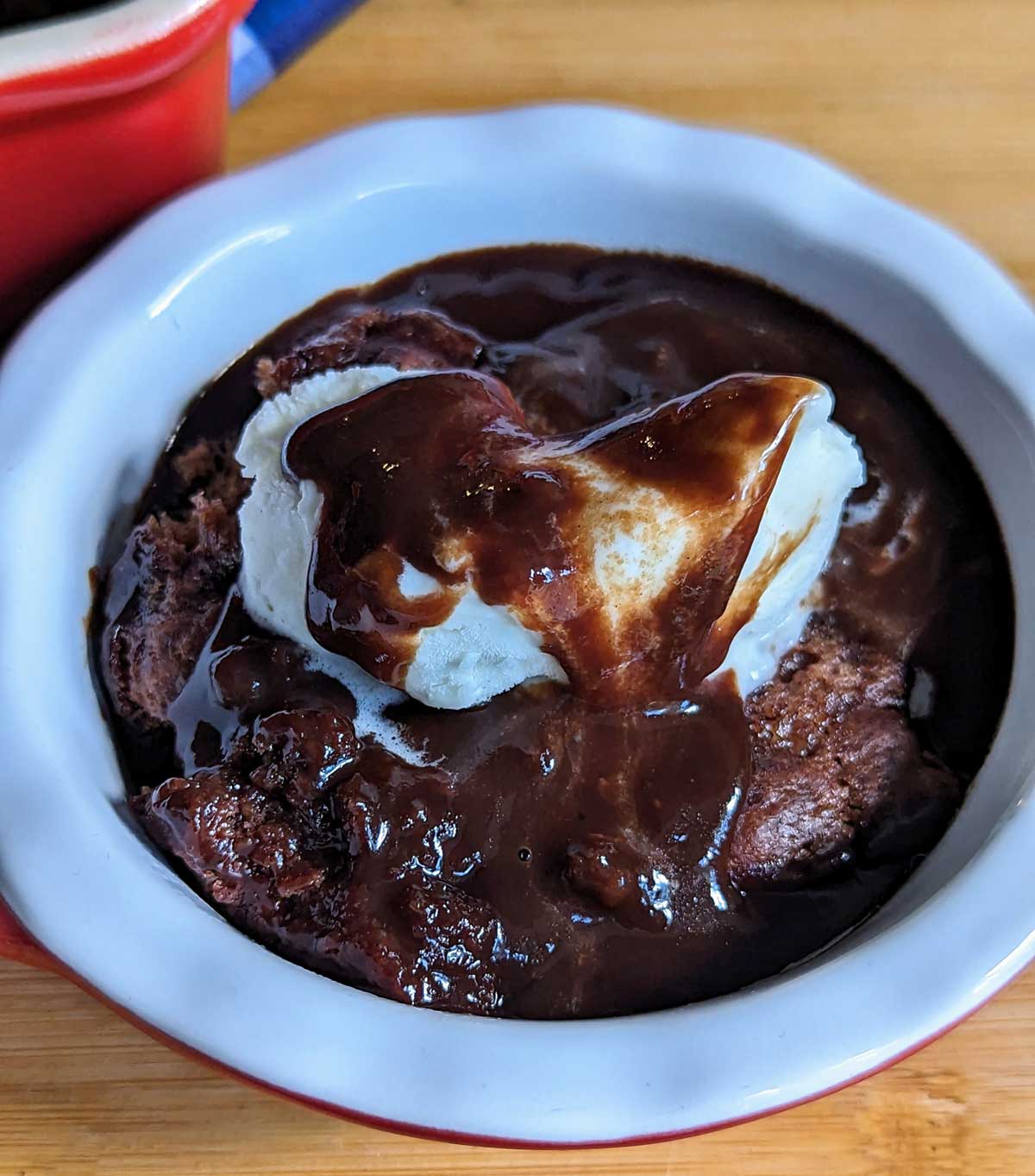 This is a recipe Pat gave me the other day. She finds most cakes too dry, so I wasn't surprised she recommended this combination of pudding and cake known for it's ease and convenience. You pour all the ingredients in the pan in the order listed, bake for 40 minutes, and what you get is a rich hot fudge sauce (pudding) topped with a brownie-like cake.
I tried the chocolate pudding recipe last night and it was a big hit even though I forgot to buy ice cream. Todd loved it and Fuzz and her friend (who were having a vegan dessert-- another story) were fascinated with it and asked if we could try a vegan version. With no eggs in the recipe, I'm sure it would work. But here's the recipe we used last night.
By the way, I think this old fashioned chocolate pudding cake might be the most difficult to dessert to photograph -- or at least when you don't have any ice cream in the house! I did my best to model this with some strawberries, but it's a good reminder that the key to serving this is nice serving dishes, a good baking dish and ice cream. This is not one you turn out of the pan.
Pat's Chocolate Pudding Cake Recipe
Bottom Layer 1 cup flour (130 grams)
¾ cup sugar (150 grams)
½ teaspoon salt
2 teaspoons baking powder
2 tablespoons good quality unsweetened cocoa powder ½ cup milk (114 grams)
3 tablespoons melted butter (42 grams)
1 tsp vanilla
Top Layer ½ cup sugar (100 grams)
½ cup brown sugar (100 grams)
¼ cup good quality unsweetened cocoa powder (again)
1 ½ cups boiling hot water
Preheat oven to 350 degrees F. Lightly grease a 9-inch square pan or a small casserole dish.
In a large bowl, thoroughly mix together the flour, sugar, salt, baking powder and 2 tablespoons of the cocoa powder.
Combine the milk, butter, and vanilla in a large glass measuring cup. Pour over flour mixture and stir just until combined (don't beat). Scrape batter into the pan.
Mix the remaining sugar, brown sugar and cocoa powder together and sprinkle over the top. Pour the boiling water over all. Set on center rack and bake 35-45 minutes.
Chocolate Pudding Cake Notes
-- I don't know where Pat got this particular recipe, but most are similar with varying amounts of sugar. Now that I've tried this one, I am going to compare it to a few others.
-- I used Hershey's cocoa powder. This is perfect for showcasing the best you have, but any brand will work.
-- A little espresso powder added in with the dry ingredients would be a nice touch (I didn't have any)
-- The cake thickens as it sits. It is kind of soupy straight out of the oven, but by day two it's thick and you can eat it cold or reheat it.
-- Good vanilla ice cream is highly recommended!