Chocolate Chip Bourbon Pecan Quick bread is an old recipe I only made once. Judging by the looks of it, I really need to update this photo. My old notes say the bread was good, so a better photo is in order. Also, that Wild Turkey was just for baking. You need to know that.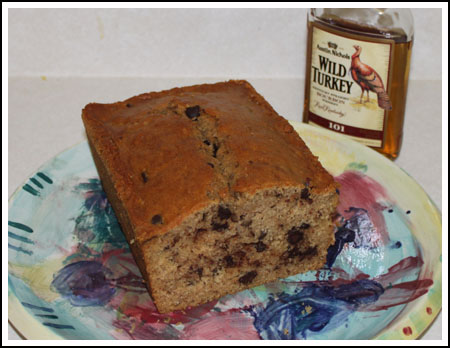 Chocolate Chip Bourbon Pecan Quick Bread
2 cups all purpose flour (spoon and sweep) – (260 grams)
1 teaspoon baking powder
¾ baking soda
½ teaspoon salt
8 tablespoons unsalted butter (114 grams)
⅓ cup dark brown sugar (70 grams)
½ cup pure maple syrup
2 large eggs
½ cup buttermilk
½ cup chocolate chips
½ toasted pecans, chopped -- optional even though "pecan" is in title
5 tablespoons Bourbon, plus more as needed
Preheat the oven to 350 degrees F. Grease and flour a 9x5 inch loaf pan or spray it with flour-added cooking spray.
Mix together the flour, baking powder, baking soda and salt. Set aside.
Beat the butter and brown sugar together until creamy. Beat in the maple syrup and the eggs.
Add flour mixture to butter mixture alternately with the buttermilk. Stir in the chocolate chips, pecans and Bourbon. Scrape batter into the prepared pan.
Bake on center rack at 350 degrees F for 45 minutes. Recipe recommends to bake one day ahead.