Sorry today's post is late. Long story short, the bathtub cracked, maintenance had to come seal it with something called "Bondo" and the pets and I had to evacuate. Luckily, I made Chocolate Chip Bourbon Pecan Quick Bread last night, and since it's a "better the next day" recipe we had something good to come home to today.
This recipe is from one of the new used Junior League cookbooks I got for Mother's Day.
It was easy to put together and had an interesting color and flavor. It was dark from the brown sugar, and the maple flavor really came through. The Bourbon was subtle, but you could taste it (I bought Wild Turkey to use especially for baking) and the chocolate chips were a delicious addition. For some reason I didn't care for the pecans. I love pecans and I can't believe I'm saying this, but next time I'd leave them out.
Aside from my not loving the pecans, I'd say the bread was very good – not too sweet, but sweet enough to be served as dessert.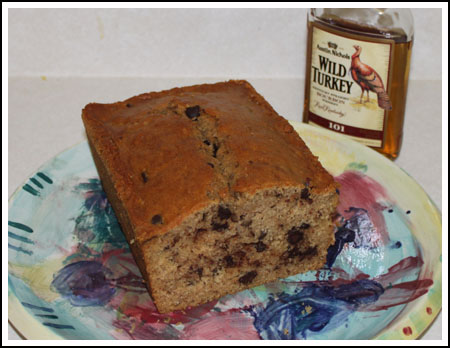 Chocolate Chip Bourbon Pecan Quick Bread
2 cups all purpose flour (spoon and sweep) – 9 oz
1 teaspoon baking powder
3/4 baking soda
1/2 teaspoon salt
8 tablespoons unsalted butter
1/3 cup dark brown sugar
1/2 cup pure maple syrup
2 large eggs
1/2 cup buttermilk
1/2 cup chocolate chips (I used dark)
1/2 toasted pecans, chopped
5 tablespoons Bourbon
Preheat the oven to 350 degrees F. Grease and flour a 9×5 inch loaf pan or spray it with flour-added cooking spray.
Mix together the flour, baking powder, baking soda and salt. Set aside.
Beat the butter and brown sugar together until creamy. Beat in the maple syrup and the eggs.
Add flour mixture to butter mixture alternately with the buttermilk. Stir in the chocolate chips, pecans and Bourbon. Scrape batter into the prepared pan.
Bake on center rack at 350 degrees F for 45 minutes. Recipe recommends to bake one day ahead.