Update: Chocolate Chip Cookies with Molasses really do stay fresh! I'm eating one of these right now (Day 2) and they taste great.
-----------------------------------------------------------------------------------------------
Today's cookie recipe is one I've been making on and off for the last couple of years. It's a very reliable recipe and the result is always a fairly thick, chewy, nicely shaped chocolate chip cookie with a punch of molasses. This is based on a cookie from Roland Mesnier's book, Dessert University. I make a half version, increase the salt a tiny bit, and omit the nuts.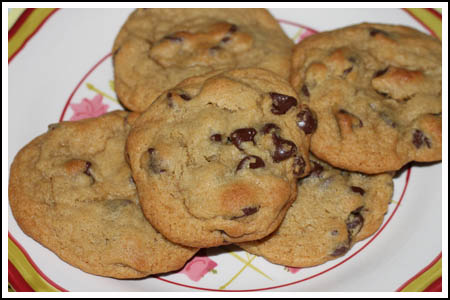 I've posted this recipe in the past, but this morning I decided to weigh some of the ingredients just to make sure the flour amount was accurate. So below is the recipe with the gram amounts. The cookies bake up a little thicker if you chill the dough, but if you don't mind thinner cookies you can bake them right away.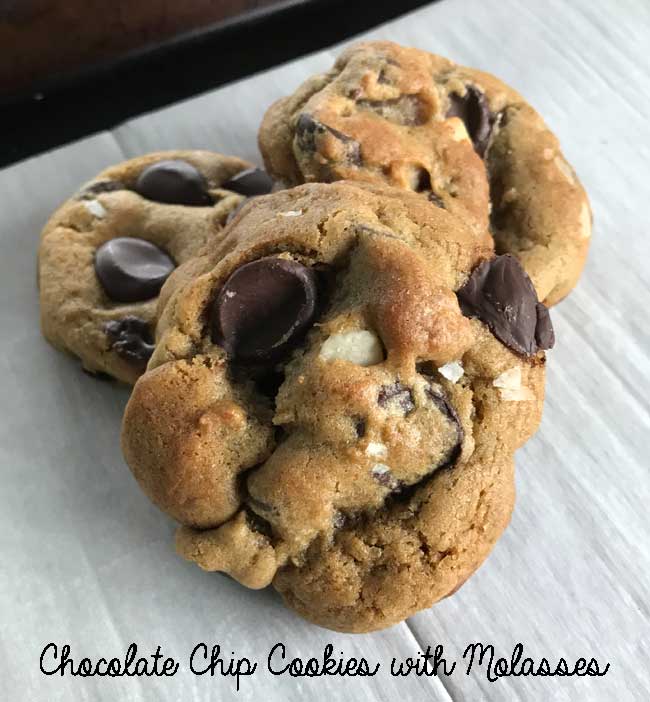 Chocolate Chip Cookies with Molasses
1 ½ cups plus 1 ½ tablespoons unbleached all-purpose flour (210 grams)
½ teaspoon baking soda
¼ teaspoon salt (I use ½ teaspoon)
½ cup (1 stick) unsalted butter, softened – slightly cool (114 grams)
½ cup granulated sugar (96 grams)
⅓ cup packed light brown sugar (65 gram)
1 large egg, room temperature
2 tablespoons molasses, mild (I use Grandma's or Brer Rabbit Mild)
½ tablespoon pure vanilla extract
1 cup semisweet or dark chocolate chips
Combine the flour, baking soda and salt in medium mixing bowl and set aside
In the bowl of an electric mixer fitted with paddle attachment, beat the butter until creamy. Add the granulated sugar and brown sugar and beat until thoroughly mixed. Beat in egg, molasses and vanilla, scraping down sides of bowl once or twice. By hand, gently stir in the flour mixture, then stir in the chocolate chips. Chill dough for an hour. Note: It gets pretty hard if you chill it longer than an hour. You can, but you might want to separate it into balls while the dough is still soft and then chill it.
Preheat oven to 400 degrees F. Line a baking sheet with parchment paper
With a tablespoon measure, scoop up large, heaping tablespoons of the dough and shape into balls – mine were each about 1 ½ oz and smaller than golf balls. Place on cookie sheets about 2 inches apart and flatten slightly by hand.
Bake until just light golden, 8 to 10 minutes. Cool cookies for 5 minutes on baking sheets before using metal spatula to transfer them to wire rack to
Makes about 13-16
Note: Baking at 400 degrees is key here because it keeps the inside soft and helps make the cookies thick, but watch the cookies closely because after 8 minutes, they start to brown rather quickly.