I love making muffins for Fuzz, but she's picky about texture and doesn't love chunks of fruit in her muffins. Something must have changed, because a few days ago she told me her new favorite muffin was blueberry. I think maybe someone slipped her some box-mix muffins where the tiny canned blueberries add flavor and color but not texture — gateway blueberry muffins. Now I can get her into fresh blueberry muffins.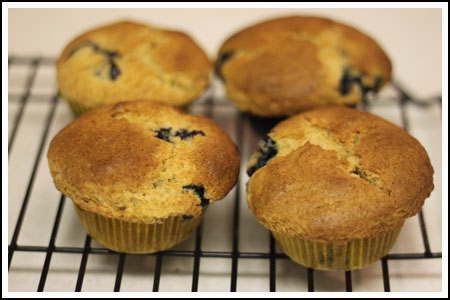 Blueberries have been on sale lately, so yesterday I made some fresh blueberry muffins for Fuzz. As a starting point, I used Marcy Goldman's famous Lawsuit Muffins. Marcy offers all kinds of variations and includes a streusel topping, but I pared things down a little and made the muffins using Marcy's ratios, but without the streusel, cinnamon or citrus and with a mix of brown sugar and granulated.
These muffins rose fairly high, had crispy edges, a dense texture, and a rich brown sugar flavor that made them different than your usual blueberry muffin. They were very good and I'd make them again for friends. I also think this recipe would make a great base for peach muffins…maybe with a little cinnamon?
Fresh Blueberry Muffins
2 1/2 cups unbleached all-purpose flour (11.25 oz)
1 teaspoon baking soda
2 teaspoons baking powder
1/2 scant teaspoon salt
2/3 cup granulated sugar
2/3 cup light brown sugar
2/3 cup vegetable oil
1 large egg
1 teaspoon vanilla extract
1 scant cup buttermilk
1 cup fresh blueberries, frozen**
Adjust rack to upper third of the oven and preheat oven to 400 degrees F. Line 11 muffin cups with paper liners or spray with baking spray
Stir flour, baking soda, baking powder and salt together in a bowl and set aside.
In another mixing bowl, whisk together the granulated sugar, brown sugar, oil, egg, vanilla and buttermilk.  Gently stir the flour mixture into the liquid mixture. When halfway mixed, add the frozen blueberries and stir just until blended. The batter will be thick. It reminded me of chocolate chip cookie dough, but runnier.
Spoon into cups, heaping as much as you can into the center. Bake for 20 minutes at 400, then reduce heat to 350 F and bake until done – about 10-12 minutes. To check for doneness, stick a toothpick in the center and make sure it comes out clean. Let muffins sit in the pan for about 5 minutes, then carefully remove
Makes 11 muffins.
**Freezing the blueberries helps keep them from bleeding into the batter.