We're back from Disney and I have a few pictures to post. I'll get to that later, but for now here's a photo of the cookies I baked this morning using a few household staples.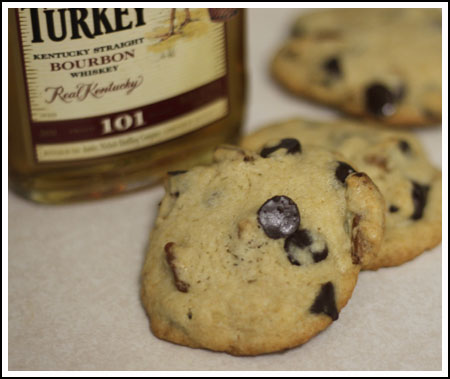 This recipe is adapted from a book called The Sophisticated Cookie

where all the cookies are made with booze. Louise, who owns the book, sent me a few other recipes from it and they all sounded good — Tequila Sunrise Bars, Vodka Citrus Shortbread, Kamikaze shots and Amaretto Sours. At less than $4.00 for a used copy, the book is a bargain.
I was in the mood for chocolate chip and these were just perfect. They have enough Bourbon so that you can actually taste it (Fuzz did, and decided she didn't like the cookies), and they're puffy and handsome – or sort of. They're on the pale side thanks to all the baking powder, but I think they look nice in a cakey-cookie sort of way. Now here are my changes. The original recipe didn't have any salt whatsoever and called for unsalted butter. It also used about half as many chocolate chips and slightly more nuts. I added a bit of salt and doubled the chocolate chips.
Bourbon-Pecan Chocolate Chip Cookies
8 oz cool unsalted butter, room temperature
3/4 cup granulated sugar
3/4 cup very firmly packed brown sugar
2 large eggs
5 tablespoons bourbon whiskey
2 1/4 cups all-purpose flour (fluff, then spoon and level or scoop and sweep) 10.5 oz
1 teaspoon baking powder
1/2 teaspoon salt
2 1/2 cups extra dark chocolate chips
3/4 cups pecans, toasted and chopped
Preheat oven to 350 degrees F if you are baking the cookies immediately. Skip this step if you plan to chill the dough.
In bowl of a stand mixer, beat butter until creamy. Add both sugars and continue beating for 2 minutes, scraping bowl often. Add eggs and beat just until they are mixed in. Beat in the Bourbon. Scrape sides of bowl again.
Thoroughly mix together flour, baking powder and salt and gradually add to batter, stirring just until blended. Stir in chips and nuts.
Drop by very generously heaping tablespoon 2 inches apart on parchment lined or lightly greased baking sheets. Bake for 12-14 minutes or until edges are nicely browned.
Makes about 24 cookies