In a few months we'll be in a new house on a new street. We're in transition, and one beneficiary of the change is my stand mixer. Until recently he lived a sad life at the bottom of the pantry and played second fiddle to the less bulky hand-held mixer.  And I wasn't always nice to the stand mixer either, making such insensitive statements as "I really only use this thing for meringue" and "I like the food processor better." Our move to a temporary apartment changed Mr. Stand Mixer's life. I set him on the counter because there was no other space, started using him since he was right there, then found that my cakes were turning out better and I was definitely having more fun making them.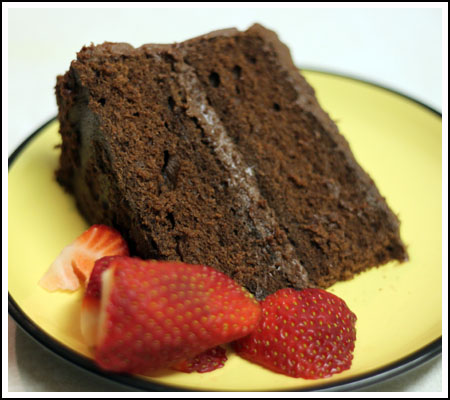 So that's my long way of saying, here's another cake. Sour cream and brown sugar help make it dense, tender and moist, but the biggest factor is the technique. It's similar to the "two-stage" method (popularized by Rose Levy Beranbaum) where you mix the dry ingredients, add the butter and some of the liquid and eggs, beat, then add the rest of the liquid and eggs. In this cake, the method is modified a bit, but it still results in perfectly even layers and a great tasting, tight crumbled, dense but tender cake. The ingredient ratios are adapted from a Flo Braker recipe and the icing is adapted from Anne Byrn, the Cake Mix Doctor.
Recipe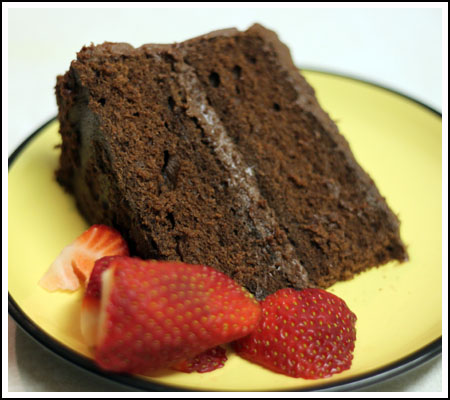 Sour Cream Chocolate Layer Cake
Sour Cream Chocolate Cake
Ingredients 
2

cups

cake flour

8 oz

1 1/2

teaspoons

baking soda

1/2

teaspoon

salt

6

ounces

unsalted butter

softened but not too warm

4

ounces

unsweetened chocolate

melted and cooled

2

cups

firmly packed light brown sugar

14 oz

1

cup

sour cream

2

teaspoon

vanilla extract

1

cup

water or room temp coffee

divided use

3

large eggs

lightly beaten in a separate bowl
Sour Cream Frosting
6

tablespoons

unsalted butter

5

oz

dark or semi-sweet chocolate

3/4

cup

sour cream

room temperature

3 1/2

cups

powdered sugar

1

teaspoon

vanilla

2-3

tablespoons

warm water or coffee
Instructions 
Preheat oven 350 degrees F.

Spray two 9 inch round cake pans with flour-added cooking spray, or rub with shortening and dust with cocoa powder.

Sift (I actually didn't sift) the cake flour, baking soda, and salt into bowl of a stand mixer and mix well. Add softened butter to flour mixture and mix on low speed with the paddle until the butter coats the flour. Stop occasionally to scrape sides of bowl. Add the brown sugar, cooled melted chocolate, sour cream, vanilla and *half* of the water. Continue mixing on low speed until well blended, scraping sides of bowl. Then beat on medium speed for about a minute.

To the eggs in the separate bowl, add the remaining half cup of water (or coffee) and beat with a fork or whisk. With the mixer on low, gradually pour the egg/water mixture into the batter. Continue running mixer for about 3 minutes on medium speed, scraping sides until you get a smooth, velvety batter.

Pour batter into the prepared cake pans and bake on center rack at 350 degrees F for about 35 minutes or until cakes test done. If your pans are black, you might want to use 325 F for 40 minutes.

Sour cream Frosting

Melt the butter in a saucepan over medium heat. Reduce heat to low and add chocolate. Stir over low heat or residual heat until chocolate melts. Remove from stove and let cool slightly (about 10 minutes). Stir the sour cream into the chocolate.

Sift half of the powdered sugar into bowl of a stand mixer fitted with whisk attachment. Add the chocolate mixture and stir until smooth. Stir in vanilla. Add the rest of the powdered sugar and beat mixture until smooth, adding water as needed.