I didn't get around to reading blogs until late yesterday, but it seems almost everyone in my reader had baked a cake — Banana, Chocolate, Chiffon….Chiffon Cake! Yes, that was what I wanted to make, so I headed to the kitchen and remembered how many eggs I had. Four. Chiffon Cake wasn't going to happen, but I was suddenly in a retro-cake frame of mind and made a spontaneous decision (because I saw my loaf pan sitting on the counter) to bake a Brownstone Front Cake.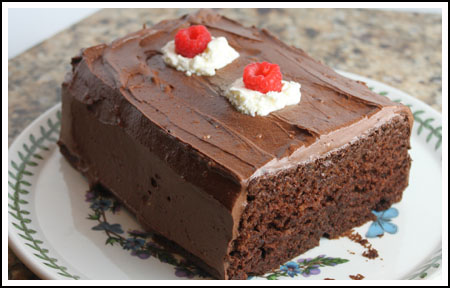 I'd known about Brownstone Front cake for years and was always seeing references to it in historical cookbooks. It was a brick-shaped cake, solid and brown like the front of a brownstone, and iced with either a white or chocolate icing. What I didn't realize were how many different versions there were – some called for whipped egg whites, some were made with cocoa, others solid chocolate, and most included sour cream and buttermilk. Frostings varied. A white frosting was popular, but the recipe I chose (adapted from Jean Anderson's which is almost identical to Maida Heatter's) had a plain chocolate frosting. I baked the cake and served it last night for dessert. Fuzz liked it, but Todd loved it. As far as flavor goes, it's not much different than your average chocolate cake. However, it had a great, moist, dense-but-still-light texture that we all really liked.
This recipe doesn't make a ton of icing, but believe it or now you will get enough to cover the cake. I'm glad I didn't double it. Also, this is a cake open to a lot of fun decorating ideas. That was wasted on me since I frosted the cake right after dinner and served it immediately for dessert, but if I'd planned ahead I could have had a lot of fun with the shape.
Brownstone Front Cake
1 cup water, boiling
2 oz unsweetened chocolate
2 cups all purpose flour, sifted before measuring (8 oz) or 1 3/4 cups unsifted
1 teaspoon baking soda
1/4 teaspoon salt
4 oz unsalted butter, room temperature
1 3/4 cups firmly packed brown sugar
2 large eggs, room temperature
1 tsp. vanilla extract
1/2 cup sour cream, room temperature
Frosting:
2 tablespoons softened butter
1 cup powdered sugar
Pinch of salt
1 oz melted unsweetened chocolate, cooled
1/2 teaspoon vanilla
2-4 tablespoons whole milk
Preheat oven to 325 degrees F. Spray a 9×5 inch metal loaf pan with flour added cooking spray and line the bottom with a rectangle of parchment paper.
In a large (2 cup) microwave-safe measuring cup or in a saucepan, bring the water to a boil. Stir chocolate into the water and let it sit until it's room temperature. This takes a while so do it first.
Sift together the pre-sifted flour, baking soda, and salt and set aside.
In bowl of a stand mixer with the paddle attached, beat the butter until creamy. Beat in the brown sugar and continue beating for about 3 minutes on high, scraping sides of bowl. Beat in the eggs, one at time, beating 30 seconds after each egg, then beat in the vanilla.
Make sure the chocolate/water mixture is room temperature, then stir in the sour cream into the water. Starting and ending with the flour mixture, add flour mixture and chocolate mixture to batter alternately, stirring just to blend. Batter might be a little lumpy.
Bake on center rack at 325 F. for one hour. Cool in the pan for about 15 minutes, then invert onto a rack to finish cooling.
For frosting, beat together the butter and powdered sugar. Add the salt and melted chocolate. Continue beating and scraping sides of bowl. Add the vanilla. Add milk as needed, starting with 2 tablespoons and using more (I used all 4 T.).
Ice the cake!
Notes:
Get a good head start on the boiling water and chocolate step so it will have time to come to room temperature.
The recipe says to use sifted flour, which means a full 2 cups won't weight the usual 9 oz but more like 8 oz. You can skip the sifting and just weigh out 8 oz