Thanks for sharing your favorite types of coffee on the Starbucks Giveaway Post! I've been reading them for the past day and thinking how interesting it is that everyone has a very particular coffee favorite and that those favorites run the gamut from Café Verona to H.E.B. grocery store's house brand. It's good to see so many coffee aficionados around here which makes me even more excited about doing this Starbucks giveaway. You still have a chance to win, just click here, go to the comment section and tell me what your favorite coffee is for a chance to win a set of three bags of Starbucks new Natural Fusions.
With all this talk about flavored coffee, I thought it might be a good time to introduce you to this cake. One Bowl Chocolate Mocha Cake is a recipe I created years ago for a cooking contest and it just so happened to win $10,000. I made dozens of variations on it, but this is the version that won because it tastes good and was a pretty good use for the sponsor product – reduced fat mayonnaise. I used to make it with Hellman's "Just 2 Good" mayonnaise, but I am not sure Hellman's makes that type anymore and Cooking Light now calls for "reduced fat mayonnaise". In this case, I wouldn't try it with regular mayonnaise because it would be too greasy. It's plenty moist with the reduced fat.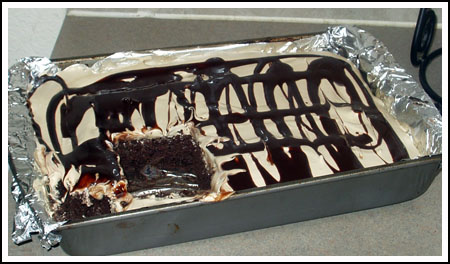 I'm going to link you to the One Bowl Chocolate Mocha Cake recipe so you can read other reviews, but here's my tip. Chill the syrup before drizzling so that it won't go everywhere.
Also, this one is served straight out of the pan so it's good for pot-lucks. You do have to keep it refrigerated up until serving time, though.