I pulled this recipe off Epicurious to see how it would stack up to an old favorite. Overall, the reviews were pretty good and I was excited to try the cookies. In the end, it's hard to say which I like best. My original recipe is a little thicker and heartier, but the Epicurious granola chocolate chip cookies were crispy/chewy and had more butter flavor. At any rate, both are great recipes for using those last bits of broken, bottom-of-the-box granola.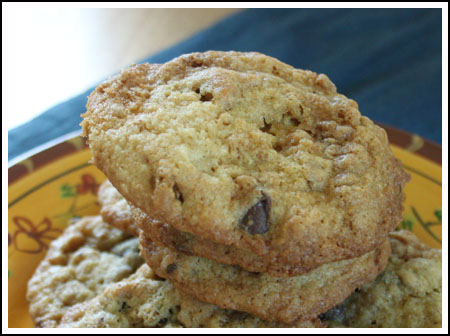 Granola Chocolate Chip Cookies
1 cup all-purpose flour (4.5 oz)
½ teaspoon baking soda
½ teaspoon salt
1 stick (½ cup) unsalted butter, softened
⅓ cup packed light brown sugar
⅓ cup granulated sugar
½ teaspoon vanilla
1 large egg
1 cup granola
¾ cup semisweet chocolate chips (4 ½ ounces)
Preheat oven to 350 degrees F. Original recipe said 375, but my first batch browned too quickly at 375. Either heat works, but I think 350 is safer.
Mix together flour, baking soda, and salt in a small bowl. Beat together butter, sugars, and vanilla in a medium bowl with an electric mixer at high speed until pale and fluffy, about 3 minutes, then beat in egg until combined well. Reduce speed to low or by hand stir in the flour mixture and mix until just combined. Stir in granola and chocolate chips.
Drop 18 mounds (about 2 level tablespoons per mound) of batter about 2 inches apart onto 2 ungreased large baking sheets, then pat each mound into a 2 ½-inch round.
Bake cookies, switching position of sheets halfway through baking, until pale golden, about 10-13 minutes. Cool on sheets 1 minute, then transfer to racks to cool completely.
Makes 18 cookies
Adapted from Epicurious