As much as I love to bake, there are days when I just don't feel like doing the work. When pulling out the ingredients seems too bothersome and not one recipe in a stack of cookbooks seems worth the trouble. Just when I thought yesterday was going to be one of those days, I found this recipe in an old issue of Fine Cooking Magazine.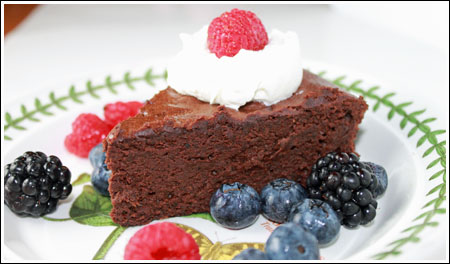 Fine Cooking's Espresso Tart pulled me out of my rut and changed my day. The ingredients were pretty easy to round up (except for the ground espresso, which I did have to pick up at the grocery store) and the technique for making it was super simple and didn't require much focusing. The end result was company-worthy, elegant, and a perfect complement to end-of-season berries which I got on sale at the store where I bought the espresso.
There was nothing about this recipe that needed changing. The only caveat is to make sure you're serving this to people who like coffee because you can really taste the ground espresso beans. This isn't one of those recipes where the coffee is an undertone. It's more of a highlight!