Chocolate Espresso Torte is a recipe from Fine Cooking Magazine.  I discovered it one day when I needed some baking inspiration, and it did the trick.  It renewed my baking enthusiasm and made the family very happy.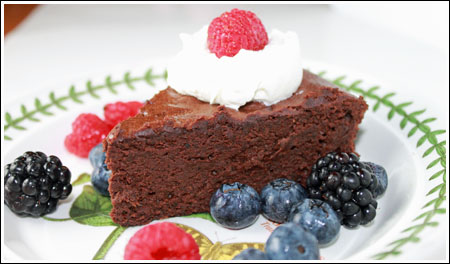 The ingredients for Chocolate Espresso Torte should be pretty easy to round up. If you don't have espresso powder, you can find it on the coffee aisle and most grocery stores. Medaglio d'Oro seems to be the most popular brand.
The technique for making the cake is super simple and doesn't require much focus, and the end result is company-worthy. It's a perfect partner to end-of-season berries, which why I call it a berry dessert!
The recipe is from Joanne Change, which is probably why there is nothing about it that needs changing. The only caveat is to make sure you're serving this to people who like coffee because you can really taste the ground espresso beans. This isn't one of those recipes where the coffee is an undertone. It's more of a highlight!