Here's another muffin to throw on the pile! I baked a couple of batches of these Blackberry Lemon Muffins over the weekend and was really happy with the results.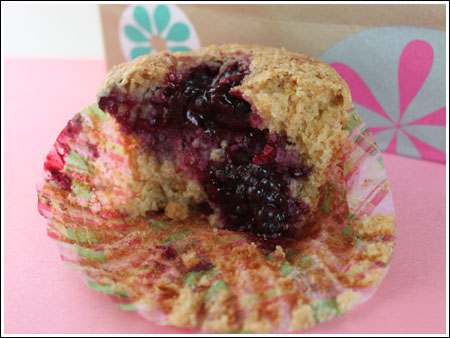 This muffin in the photo was made with blackberries, but I tested with blueberries and raspberries and liked those variations too (photo of that after the jump).
Types of Greek Yogurt
There was a slight difference in texture when using different types of Greek yogurt. For the blueberry version I used non-fat and the muffins were perfectly delicious but slightly lighter in texture. For the blackberry muffins I used full fat yogurt (20 grams per cup) and got muffins that were a little heartier and more satisfying -- not tougher, just more substantial and maybe a little heavier ounce per ounce, though I didn't weigh them. So you can use non-fat or full fat yogurt. And I think vanilla yogurt or even lemon yogurt might be an interesting substitution.
My only advice after testing the recipe is to make sure you don't use too much flour and if you're tempted to swap regular whole wheat flour for whole wheat pastry, please share the results. Because these muffins are so much lower in fat, I think the pastry flour is the way to go....but I could be wrong.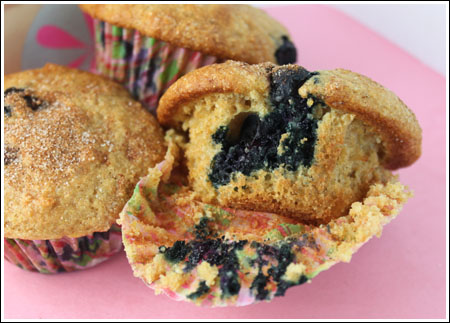 Blackberry Lemon Muffins
1 large egg
6 oz Greek yogurt – regular or non-fat**
¼ cup applesauce
2 generous tablespoons vegetable oil
2 teaspoons lemon zest
2 cups whole wheat pastry flour (9 oz) –fluff before measuring
1 teasoon baking powder
1 teaspoon baking soda
½ scant teaspoon salt
½ cup granulated sugar
1 cup plus more if desired blackberries
1 teaspoon sugar mixed with a big pinch of cinnamon for topping
Preheat oven to 400 degrees F. Line 12 muffin cups with paper liners.
Mix together the egg, yogurt, applesauce, vegetable oil and lemon zest.
In a second bowl, mix the flour, baking powder, baking soda, salt and sugar in a large bowl.
Add the yogurt mixture to the flour mixture and stir gently until combined. Stir in the berries. Divide batter evenly among the 12 muffin cups, place in oven and close door.
Reduce oven temperature to 375 and bake for 20 minutes.
Makes 12