Today's Butterscotch Mini Muffins are dedicated to Fuzz, who reminded me that she does not care for muffins with cooked fruit and politely suggested I make blueberry muffins without berries. I told her that was fine, but insisted on adding butterscotch morsels. That idea, she liked.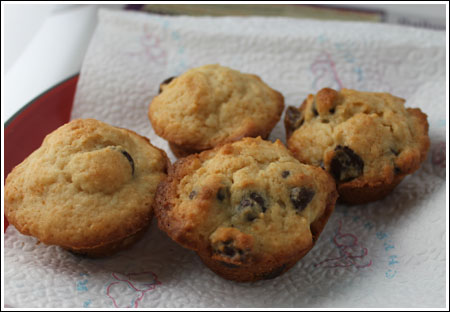 This recipe makes a good muffin – mini or otherwise. The ratios I used are from a muffin in The Perfect Recipe, but I took some liberties with the directions, flavorings, etc. What's nice about these are they are real muffins with a sturdy shell and moist interior and won't be mistaken for cupcakes. They're a little raggedy looking, but some muffins just are. If it bothers you, just drizzle on a little icing.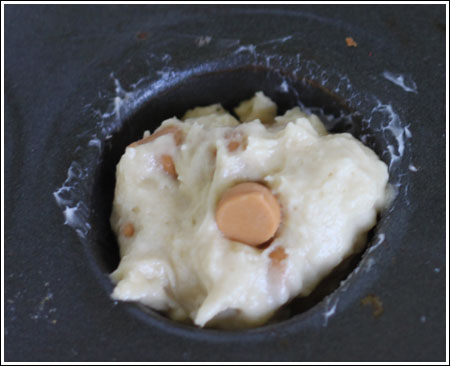 As much as I love this recipe, there's one small issue. When made as minis the yield is 32 muffins and most mini muffin pans hold 24. A bad solution is to just pile the thick batter into the 24 muffin pans and use it all. I know because I did that and the muffins were top heavy and awkward looking. For the second round, I was more judicious with the batter and the muffins had a nicer shape. This photo was supposed to be my example of a "good" fill. It was better than the first, but even this muffin rose quite a bit so you might want to use a tiny bit less than what's in this photo. You'll have batter left over after you fill the 24 cups, but you can always use that to make a couple of regular size muffins.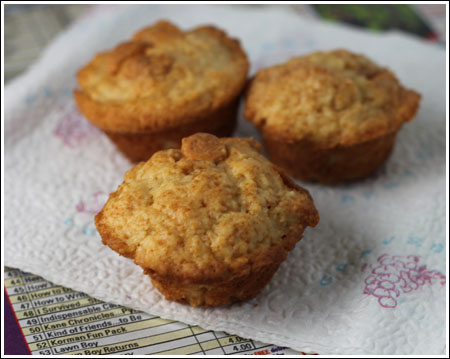 And one more note. I started running low on butterscotch chips and divided out some of the batter to use with chocolate chips. Even with the same batter, I noticed the muffins with the chocolate chips spread less and had a nicer shape. I think the extra sugar in the butterscotch chips causes the spreading. The point is, this recipe might as well be for chocolate chip muffins because that variation is just as good.
Butterscotch Mini Muffins
1 ½ cups all purpose flour (6.75 oz) -- spoon and sweep of fluff up the flour before scooping
1 ½ teaspoons baking powder
¼ teaspoon salt
¼ teaspoon baking soda
5 tablespoons unsalted butter, softened
¼ cup light brown sugar, packed
¼ cup granulated sugar
1 large egg, room temperature
½ teaspoon vanilla extract
¾ cup honey or vanilla flavored Greek yogurt
½ cup butterscotch morsels
Cinnamon sugar for topping (optional)
Preheat oven to 375 degrees F. Grease 32 mini muffin cup or line with paper liners.
Mix the flour, baking powder, baking soda and salt together in a bowl and set aside.
In a mixing bowl beat the butter and both both sugars until creamy. Beat in the egg and vanilla, scraping sides of the bowl. By hand, stir the flour mixture and yogurt into the batter alternating between the two and being careful not to overmix. Stir in the butterscotch morsels.
Using about a tablespoon, fill the muffin cups just to the top. They will rise and spread a bit, so you don't want to pile the batter too high. If you get 32 minis, you've used the right amount per cup. Sprinkle cinnamon sugar over top of each muffin.  Sprinkle with some cinnamon sugar if you like.
Bake at 375 degrees F for 15-18 minutes or until muffins are nicely browned. Let the muffins cool in the mini muffin tins, but make sure they're loosened slightly so they'll pop out when cool.