Sorry to interrupt the Ghirardelli Luxe Milk Chocolate Giveaway, but I needed to tell you about Erika from Top Chef's Chocolate Chunk Cookies – the ones that were so good, a judge requested the recipe.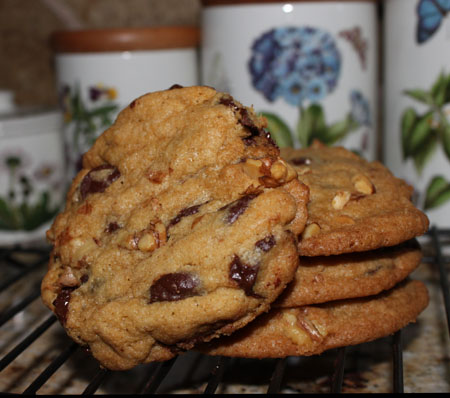 Bravo put Erika's recipe on their website and it's written the way a normal person might scratch something down on a recipe card. She doesn't put the size of the scoops, whether the butter is unsalted or salted, the weight of the flour, the temperature of the butter or how long to bake the cookies, but she was detailed enough to say "345" as the temperature, which is interesting. I baked the cookies at 345 and 350 and didn't get much of a difference, but 345 makes the recipe unique so we'll stick with it.
Oh, and remember that shot where she was kind of kneading the dough? Well, I think it was for cinematic appeal or else she was just trying to incorporate the chips into a huge amount of dough, but not really kneading it at all. I tried kneading some of the dough before baking and the dough that I'd handled roughly spread more. The best cookies were the ones that I mixed gently (as usual). I also got a much nicer looking cookie when I used dough with rough, raggedy edges as opposed to smooth.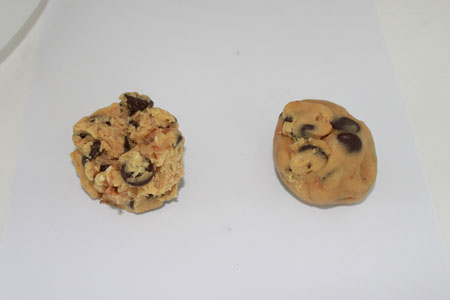 Despite the butter mystery (I went with unsalted and increased the salt to ½ teaspoon because I knew it wouldn't hurt), I think the cookies turned out like Erika's or at least good enough that I'd definitely make this recipe again. Whatever ratios she used are on the money.
Here's a link to Erika's Top Chef Chocolate Chunk Cookie Recipe on Top Chef. Below is the method I used for making the cookies.
Top Chef Chocolate Chunk Cookies
2 sticks unsalted butter, cool room temp
3/4 cup granulated sugar
3/4 cup light or dark brown sugar
1/2 teaspoon vanilla (feel free to use more)
2 large eggs
1/4 tsp salt ( I used ½)
1/2 tsp baking soda
1/2 tsp baking powder
2 1/2 cups all-purpose flour (11.45 oz)
1 ½ c chocolate chips (Ghirardelli bittersweet chips)
1 cup walnuts, toasted and chopped
Preheat the oven to 345 degrees F.
In bowl of a stand mixer, beat the cool butter until it is creamy. Beat in the sugar and brown sugar and cream for about 2 minutes. Reduce speed to low and add the vanilla and the eggs and beat just until eggs are incorporated, being careful not to beat a lot of air into the batter. I did this partially with the paddle and partially with my spatula scraper.
With mixer still on low, add the salt and the baking soda and scrape bowl. Add the baking powder and stir until it's mixed in, then add the flour gradually until it's incorporated, being careful not to over beat. Stir in the chocolate and the walnuts.
Scoop the batter into raggedy balls using a quarter cup size measure. Make sure they're rough and not smooth. To be safe, you can gently shape large balls, pull them in half, then put the raggedy split sides up (and old trick from Cooks Illustrated). Put them on a plate in the refrigerator to chill for a few hours.
Bake the dough. Preheat the oven to 345 degrees F.
Arrange 8 dough balls on a parchment lined cookie sheet and bake for 15 minutes or until cookies appear set. Let them cool for 5 minutes on cookie sheet then transfer to a wire rack.
Makes 16-18 cookies