I thought I'd tried every chocolate chip cookie recipe imaginable, but this morning I found a new one with an interesting twist -- Honey Maple Chocolate Chip Cookies. The recipe is interesting. Instead of the usual mixture of white and brown sugar, it calls for ¾ cup honey and ¾ cup maple syrup.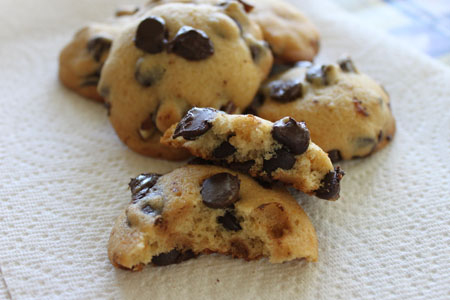 At first I was a little worried about flavor. Would honey and/or maple be overwhelming? But then I remembered a few other recipes where pure maple syrup was used as a sweetener and the maple flavor was very subtle. As for the honey, I wasn't so sure. Honey flavor can be pretty strong, depending on what type you use. To play it safe, I used clover honey.
Using Butter in Place of Shortening
As it happened, the cookies were delicious! The original recipe called for a cup of shortening, but I substituted a cup (2 sticks) of unsalted butter. To keep the cookies puffy, I used very cool butter which I whipped with the paddle of the stand mixer until it was creamy. I also beat the eggs lightly with a fork and stirred them in gently tablespoon by tablespoon. That is, I used the technique from The Ultimate Chocolate Chip Cookie recipe which helps keep the cookie batter from holding too much air.
The batter was interesting. Without the sugar, it was very smooth and rather soft. I chilled it for a few hours and it thickened so that by the time I was ready to use it, it was like regular chocolate chip cookie dough. As for the cookies, they were extremely tasty and I loved the flavor of the maple syrup mixed with the honey (and butter). I'm really glad I substituted butter for the shortening.
For those of you wondering what the texture was like, the cookies were cakey but a tight-crumbed type of cake -- very dense. So if you happen to love really moist, cakey, dense cookies, these are for you. I actually prefer crunchy cookies, but I enjoyed the flavor of the cookies quite a bit.
One last note. I was wondering why the original recipe didn't include pecans since it appeared to be kind of an Autumn themed cookie. I added nuts to a few, and now I know why. Crunchy nuts just don't go well with the cakey texture.
UPDATE: Later in the day I tried baking the dough in mini muffin tins and loved the results! While the cookies were fine as chocolate chip, their dense and cakey texture worked perfectly as mini muffin shaped cookies.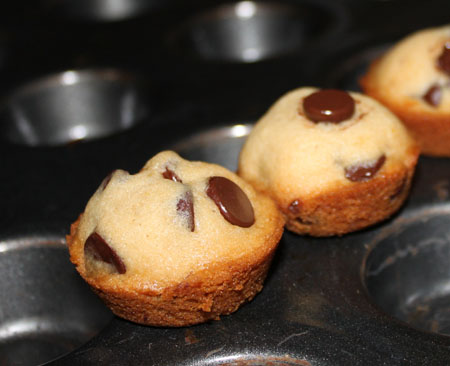 Honey Maple Cookies from Taste of Home