Today's cookie is from the latest episode of Top Chef Just Desserts. The challenge: Dessert Wars! where contestants broke into two teams and created dream pastry shops. One team called theirs "Pastry Playland" while the other team made a shop focusing on comfort food and called it "Whisk Me Away". I won't tell you who won, but Morgan, Eric and Danielle's "Whisk Me Away" served these cookies. The recipe is from Eric, whose Bravo bio says he works at Baked in Brooklyn. So how are the cookies?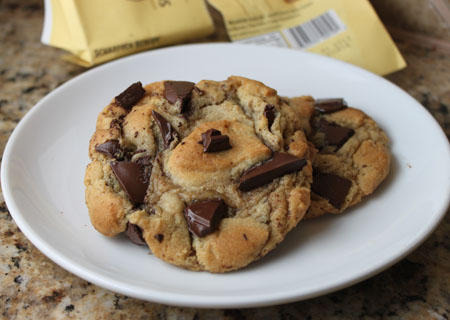 These are CCC's at their best, but only if you like yours big, chewy, and with chunks of chocolate instead of chips. In fact, I wouldn't recommend making these with regular chips. For one thing, big cookies need big chunks, but also the dough is slightly lower in butter and perfect for accommodating richer, high quality chocolate…..and a lot of of it! Even Elizabeth Falkner thinks so. Bravo took a How-To video of her making the cookies.
UPDATE: (Removed the video because it was old and wasn't loading properly)
My only caveat is the salt. I think they used a pretty coarse type Kosher salt. If you use table salt or Morton brand regular Kosher, you might want to cut the salt to 1 3/4 teaspoons. I speak from experience. I made a half bath of cookie dough using 1/2 tablespoon of regular size Kosher salt. The dough was too salty tasting and I ended up having to make a second batch of dough with an adjusted amount of salt
Salt issue aside, the cookies are REALLY good. Just use good chocolate. I also threw in a teaspoon of vanilla because I couldn't stand leaving it out.  Here's the un-adapted version (update:  Bravo moved the recipe so it's no longer there).
Top Chef Just Desserts Chocolate Chip Cookies by Eric
340 grams unsalted butter (12 oz) =3 sticks
200 grams granulated sugar (7 oz) = 1 cup
400 grams brown sugar (14 oz) 2 very, very tightly packed cups light brown sugar
21 ounces flour (4 2/3 cup)
1 tablespoon baking soda
1 tablespoon coarse type Kosher salt (or 1 3/4 teaspoons Morton kosher or table)
2 large eggs
2 large egg yolks
21 ounces good quality chocolate chopped into chunks
1. Melt butter, cool slightly.
2. Paddle sugars with melted butter.
3. Whisk together dry ingredients.
4. Add eggs slowly.
5. Add flour, mix, add chips (or chunks)
6. Bake at 325 for 14 min or until golden brown.