My mom's birthday always falls near Thanksgiving which means our feast includes birthday cake.  This year, because the recipe caught my eye and because I was baking a cake for my mother, I chose to make Mom's Chocolate Cake from the current issue of Food & Wine.  It's by Marcia Kiesel who got it from her friend Joyce Cole.  Joyce Cole got it from her mother.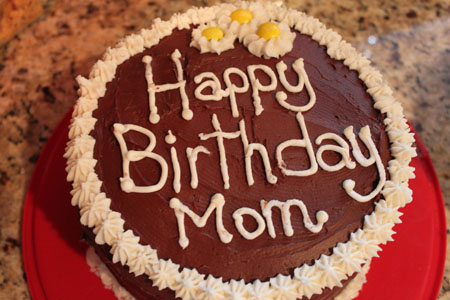 Make Ahead and Freeze the Layers
Because I knew I'd be  busy on Thanksgiving Day,  I made the cake layers in advance, wrapped them in foil, froze them, then made the icing and assembled the cake on the day of our Thanksgiving/Birthday Celebration. The layers froze pretty well, and I do think the freezing process does something to make the cake more dense and moist. At any rate, we loved it.
Mom's Chocolate Cake Icing (Frosting)
The icing was especially good and was made using a technique I'd never tried. First, you dissolve the sugar in hot cream. Next, you add the unsweetened chocolate and butter and let it melt into the cream mixture. Instead of cooling or chilling and beating until creamy, you hold the bowl over a bowl of ice and beat until thick with a hand-held mixer.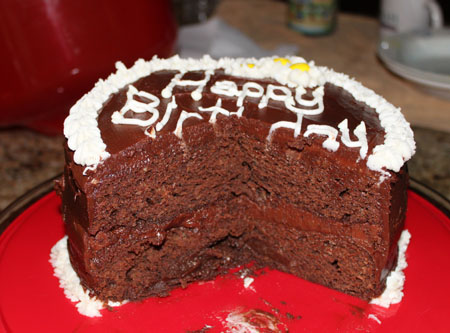 So as far as "Mom's Chocolate Cakes" go, this was a good one.  However, there are lots of Mom's Chocolate Cakes out there.  I noticed Joanne Weir had one too, so maybe I should bake them all.
Here's the recipe for Mom's Chocolate Cake from Food & Wine