I'm spoiling the surprise right away. The "surprise" is potato chips! These are oatmeal cookies with potato chips, courtesy of Louise who adapted a recipe from the late, great, queen of cookies, Maida Heatter.
Old Post About Surprise Oatmeal Cookies
Surprise Oatmeal Cookies is a recipe from Louise, who you may know from the comment section and who also happens to be the official baker for the Bethlehem, PA Trail of Lights. Every year she makes dozens of assorted cookies to serve to groups who take guided tours of the lights. While we didn't get to go on Louise's tour, we were the lucky recipients of a box of Louise's special cookies.  She is every bit as good a baker as I expected and she also turned me on to some new recipes.  This is one of my favorites from her collection.  Louise says it's an adaptation of Maida Heatter's Key Largo Oatmeal Cookies, which call for a very special ingredient.
Surprise Oatmeal Cookies with Potato Chips
I'd used potato chips in lots of other cookies, but never in oatmeal. In fact, when I first tried one of the cookies (in a fairly dark kitchen and in a tired mood) I thought the potato chips were coconut chips.  But what I really loved about the cookies was their size, shape, and how packed with goodies they were.  These cookies are really big and fat, crisp on the outside, and filled with nuts, dried fruit, and of course the potato chips.  I've since made two batches of my own and have incorporated coconut.
My only advice is to make sure to sift the flour so you'll get the right weight/volume.  If you have a kitchen scale, you can skip the sifting and just weigh out 4 oz. Also, this recipe makes 12 big cookies. Maida's original version was double this.
Recipe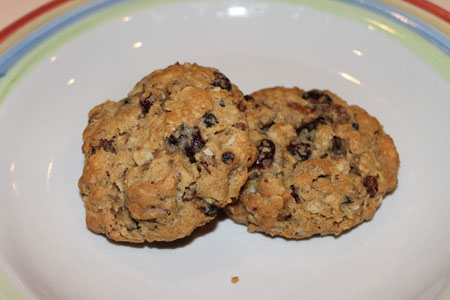 Surprise Oatmeal Cookies
A unique oatmeal cookie recipe adapted from Maida Heatter.
Ingredients 
4

oz

1 stick unsalted butter, room temperature or cool

(114 grams)

3/4

cups

plus 2 tablespoons packed light brown sugar

(175 grams)

1/2

teaspoons

vanilla

1

large

large egg

room temp

1

cup

sifted unbleached flour

(114 grams)

1/2

teaspoon

baking soda

1/4

teaspoon

salt

1/4

teaspoon

cinnamon

1

cup

old fashioned oats

2-3

tablespoons

currants

or raisins

1/2

cup

dried cranberries

3/4

cups

toasted pecans

1 1/2

oz

weigh potato chips (I used Kettle Chips) –lightly crushed**

(42 grams)

1/2

shredded sweetened coconut

or leave out and use a full 2 oz of chips
Instructions 
Beat the butter with a mixer until it is creamy. Beat in the brown sugar and vanilla and continue to cream mixture for about 2 minutes. Reduce mixer speed to low and beat in the egg.

Mix together the flour, baking soda, salt and cinnamon. Add the flour mixture to the batter and stir until it's mixed in, then add the oats, dried fruit, pecans and potato chips. Stir well. Batter should be slightly crumbly from all the add-ins, but not dry. If you used the right amount of flour it won't be.

Using a 1/4 cup measure, scoop up dough and make 12 large mounds. To help shape the crumbly dough, moisten hands with a small amount of water. At this point you can bake the cookies OR you can arrange the mounds on a plate and chill them until ready to bake. I've been chilling mine overnight to get more height.

When ready to bake, let the dough mounds come to cool room temperature. Place dough mounds on heavy duty ungreased or parchment lined cookie sheet spreading about 2 inches apart. Press tops down slightly. Bake at 350 for 18-20 min or till lightly browned and cookies appear set. For moister centers, 18 minutes, for dryer cookies, go with the longer cook-time. Makes 12.

Notes: To toast pecans, spread on a cookie sheet and bake at 350 for 8 to 10 minutes.
Notes
For flour, you can skip the sifting part if you weigh out 4 oz. Otherwise, sift flour then measure. Sifted flour weighs less per cup than unsifted.