January is the month when I like to experiment with more whole grain recipes, so I bought bag of King Arthur White Whole Wheat Flour to try some new things. This is one of those things. It's Lemon Poppy Seed Bread, and it is adapted from the King Arthur Book of Whole Grain Baking and it's delicious. It's very lemony, has a little crunchiness from the poppy seeds. Plus you can eat it for breakfast knowing you've at least got a few whole grains in.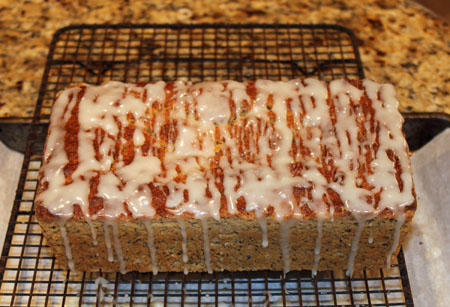 Oat Flour
Lemon Poppy Seed Bread calls for oat flour, but only ½ cup. Since it uses such a small amount, you may want to just grind it yourself rather than buy a whole bag. To make oat flour, just put oats in a coffee or spice grinder and grind into a fine meal.
Lemon Glaze
As for the glaze, I changed it a bit from the original and used my favorite melted butter lemon icing which drizzles nicely, sets quickly, and is opaque.
Lemon Poppy Seed Bread
1 ½ cup (6 oz) white whole wheat flour
¾ cup all purpose flour
½ cup oat flour
2 teaspoons baking powder
½ teaspoons baking soda
½ teaspoon salt
½ cup unsalted butter, softened
1 cup granulated sugar
2 large eggs
2 tablespoons lemon zest
½ cup fresh lemon juice
¾ cup lemon yogurt
¼ cup poppy seeds
Icing
1 tablespoons butter, melted
½ cup powdered sugar
2-4 tablespoons of lemon juice (probably just need 2)
Preheat the oven to 350 degrees F. Grease and flour a 9x5 inch metal loaf pan.
Mix together the flours, baking powder, baking soda and salt. Set aside.
Cream the butter and sugar with an electric mixer, scraping sides of bowl. Beat in eggs, one at a time. Beat in the lemon zest. Add ⅓ of the flour mixture and stir it in by hand or using lowest speed of mixer. Next, add some of the lemon juice, another ⅓ of the flour, remaining lemon juice and the rest of the flour, stirring to mix. Stir in the yogurt and poppy seeds. Transfer to the pan and bake on center rack for 1 hour and 5 minutes. Cool on a rack for 20 minutes. Loosen from pan with a knife and then let cool a bit more before flipping from pan. Let it cool completely before adding the icing.
To make the icing, melt the butter in a bowl or large Pyrex mixing cup what I like to use). Stir in the powdered sugar so that it's lumpy and thick. Add the lemon juice one tablespoon at a time stirring until you get a nice drizzling consistency. Drizzle over the cooled loaf.