A few years ago I bought myself a little baby cast iron skillet. It's about 5 inches across and as cute as can be. I bought it thinking I'd make a bunch of small frittatas, but what I mostly use it for is cornbread. The hot iron combined with a little melted fat gives the cornbread that golden brown, crispy, crust.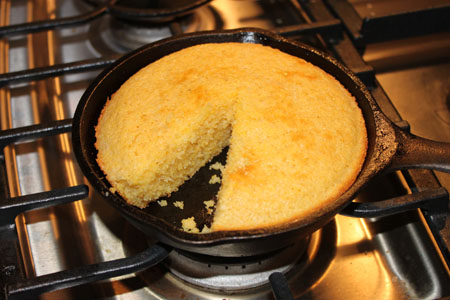 This recipe is my new favorite cornbread recipe. It's not too sweet, but it's got enough sugar to taste balanced. In other words, my father (who insists cornbread should not be sweet) would like this recipe just fine.  You can make this with unsalted butter, salted, or even a melted spread. Vegetable oil would work too, but in this case the flavor from the butter (or spread, which is what I used) really comes through and pairs nicely with the corn.
The full batch recipe for cast iron skillet cornbread is here.
Below is how I made it using the little 5 inch skillet. If you want to keep the small batch but don't have the mini skillet, you could do it in an 8×4 inch loaf pan or possibly two mini loaf pans. Or you could just do the full batch on the above link. Either way, it's a great cornbread recipe.
Small Batch Cast Iron Skillet Cornbread
1/2 cup plus 2 tablespoons cornmeal (I used slightly coarse)
1/4 cup plus 2 tablespoons all-purpose flour
2 tablespoons granulated sugar
1/4 teaspoon salt
1 teaspoons baking powder
1/4 teaspoon baking soda
3 tablespoons whole milk
1/2 cup buttermilk
1 egg, lightly beaten
4 tablespoons salted butter or I Can't Believe it's Not Butter spread, melted
Preheat the oven to 425 degrees F and place a 5-inch cast iron skillet inside to heat while you make the batter.
In a medium size or mixing bowl, whisk together the cornmeal, flour, sugar, salt, baking powder, and baking soda. Whisk in the milk, buttermilk, and egg. Whisk in almost all of the melted butter spread, reserving about 1/2 tablespoon for the skillet later on.
Carefully remove the hot skillet from the oven. Reduce oven temperature to 375 degrees F.
Add the reserved butter to the hot skillet. Pour the batter into the skillet (it should sizzle and butter should pool around it) and place it in the center of the oven. Bake until the center is firm and a cake tester or toothpick inserted into the center comes out clean, 20 minutes. Allow to cool for 10 to 15 minutes and serve.
Related posts: