A few weeks ago I made some excellent cast-iron skillet cornbread.   While that recipe is my new favorite "regular" version, I also like making sweet corn bread.
This recipe is Fuzz's favorite.  You can incorporate it into any meal, but with its sweetness I think it's especially good for breakfast served with a little bacon or the leaner choice, turkey sausage. The recipe is adapted from an old classic by Betty Crocker, but over the years I've changed it up a bit by swapping out some of the sugar for honey and reducing the butter.   The last time I sweet corn bread made it I used I Can't Believe It's Not Butter spread, but you can use regular salted butter. If you use unsalted, add an extra pinch of salt to make up for what's in the spread.
I think you'll like this one given that it is a little bit healthier, but if you want a recipe that's really rich and indulgent, try Ina Garten's Corn Muffin recipe.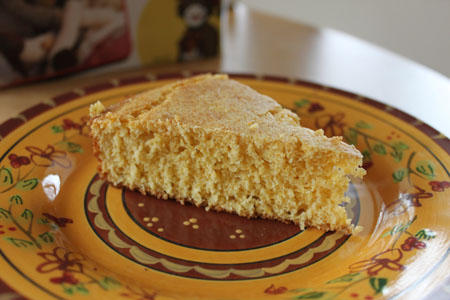 Sweet Cornbread (Reduced Fat)
Butter or butter spread for rubbing pan
1 cup all-purpose flour (4.5 oz)
1 ¼ cups cornmeal (I used ground popcorn flour)
½ teaspoon salt
1 tablespoon baking powder
2 tablespoons salted butter or I Can't Believe It's Not Butter spread, melted
1 tablespoon honey
6 tablespoons granulated sugar
1 large egg
1 cup reduced fat milk
Preheat oven to 400 degrees F. Rub a 9 inch round cake pan generously with butter or spread.
In a bowl, mix together flour, cornmeal, salt and baking powder. Set aside.
In a mixing bowl, whisk together melted butter, honey, sugar and egg, then whisk in the milk.
Stir in the flour mixture into the milk mixture gently. Batter should be slightly lumpy. Don't over-beat.
Pour into greased pan and bake for 20-25 minutes at 400 F.