My favorite 30 Rock episode is when Jenna gets a "Free Carvel Ice Cream for Life Card" and does what any of us would do -- she orders free ice cream cakes, has them purposely misspelled, then gets Kenneth to return them for cash. Jenna gets caught and banned from Carvel forever, but thanks to this month's Food Network magazine and their feature on recipes inspired by TV shows, Jenna can make her own Ice Cream Crunch Cake.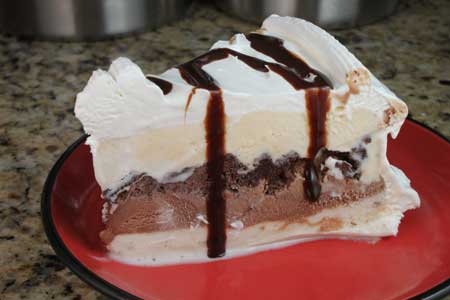 The moment I saw this recipe I wanted to make it it, but I needed an occasion and decided we'd celebrate Lizzie's birthday a week early. So last night for Lizzie's birthday dinner, we had roast beef, wild rice, steamed vegetables, cheap Merlot and this ice cream cake. I put the whipped cream on after drinking the aforementioned Merlot and you can kind of tell, but nobody cared that the cake wasn't perfect because it was so good -- especially the chocolate crunchy things.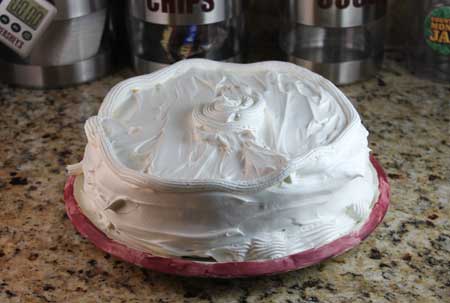 Making the Crunchy Things
Carvel fans know that the best part of the cake is the crunchy things, and the magazine did an admirable job of cloning them by crushing up Nabisco Famous Wafers and pouring Magic Shell all over. Getting through this step of the process requires a little faith on the part of the baker because it starts out as a sloppy mess, but you won't be disappointed in the end.
Make the Famous Wafers at Home
This is a fun and tasty cake. If you live in Austin, H.E.B. is having a buy one container of ice cream get another one free which will really come in handy for this. And if you can't find the chocolate wafers or don't want to pay Nabisco's princely sum, you can make them yourself using Alice Medrich's Chocolate Wafer recipe (which is what I did).  I'd be curious to see if Chocolate Teddy Grahams or Oreos with the filling scraped off would work as a substitute though, because I'll do just about anything to avoid buying those overpriced chocolate wafers.
Here's another photo of the cake.  This is one I took last night, while the one at the time is one I took today after the cake had been frozen overnight.  I guess that's another good thing about this cake.  It's a good make-ahead dessert.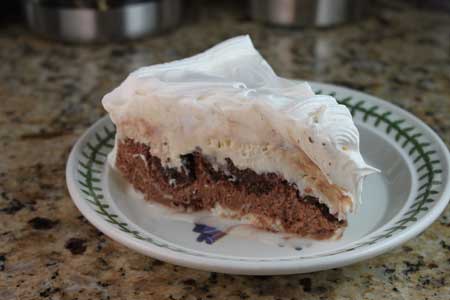 Loaf Pan Version
I really like this recipe from Food Network, but it makes a large ice cream cake. At some point in the near future, I'm going to try to re-do it as a loaf cake. .