I wish I wasn't such an impulsive baker, because as much as I appreciate the rule "read the recipe before making", I very often do not; especially when a recipe is for something I make all the time. In this case, it was a lemon bread which I made yesterday morning to go with my afternoon coffee. Halfway through the recipe, I caught the last line "do not cut for 24 hours". What a bummer.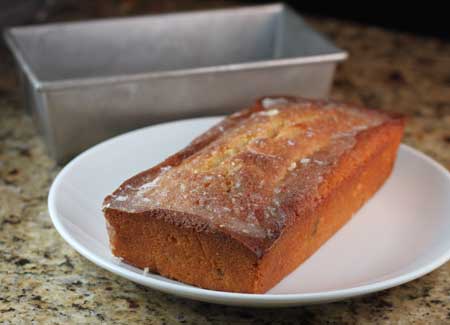 So I didn't post the lemon bread yesterday, but rather wrapped it in foil and waited until this morning. Todd tried it first and declared it lemony. My first thought upon tasting was "sweet" but in a good way. It's definitely lemony and sweet, but flavorful with an interesting note from the almond extract and added texture from the nuts. Overall, what I liked best was the crusty coating the bread developed after sitting all night in its glaze.
Make-Ahead Lemon Bread
This was very good, though I wish I'd made it in a slightly smaller pan. The late Charlotte Turgeon, editor of the collection where I found the original version of this, called for an 8 ½ inch long loaf pan, but I think mine was slightly longer and perhaps wider. It seems like it's hard to find smaller loaf pans these days.
Make-Ahead Lemon Bread
1 ½ cups sifted all-purpose flour (I used 6.8 oz)
1 teaspoon baking powder
1 teaspoon salt
1 cup granulated sugar
1 tablespoon lemon zest
6 tablespoons butter, melted and slightly cooled
2 large eggs
¼ teaspoon almond extract
½ cup milk
⅓ cup pecans, toasted and chopped (or use any nut you like) -- blueberries or fruit might be good!
Glaze
¼ cup granulated sugar
3 tablespoons fresh lemon juice
Preheat oven to 350 degrees F. Spray an 8 ½ by 4 ½ inch loaf pan with flour-added cooking spray (or just grease and flour).
Mix the sifted flour, baking powder and salt together and set aside.
Mix 1 cup of sugar and the lemon zest together in a mixing bowl, pushing the lemon around with the back of the spoon and pressing it until the sugar becomes fragrant with lemon. Stir in the melted butter. With the mixing spoon, beat in the eggs, one at a time. Beat in the almond extract. By hand, stir in the flour mixture alternately with the just until blended. Stir in the pecans.
Pour the mixture in the prepared pan and bake for 55 to 65 minutes or until a wooden pick inserted in the center comes out clean. As soon as the bread comes out of the oven, mix together the remaining ¼ cup of sugar and 3 tablespoons of lemon juice. Pour over the top. Let cool for 10 minutes, then remove from pan. Let cool completely, wrap in foil, and do not cut for 24 hours.