Happy Memorial Day!I hope you are enjoying the holiday with family and friends, and if you're traveling, be safe. For those of you at home baking as usual, here's a recipe for Maple Bran Muffins, which I hope you add to your collection. It's designed for a small size 6 muffin cup pan, but you can always double it.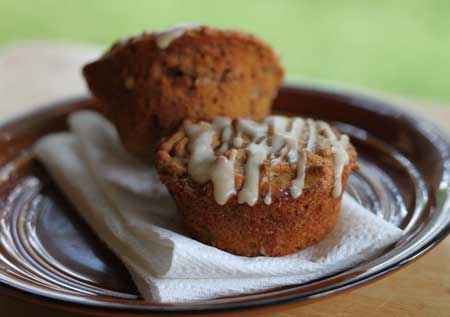 Maple Bran Muffins -- Small Batch
Small batch bran muffin recipe made with All Bran cereal and maple syrup
Ingredients
3/4 cup plus 2 teaspoons buttermilk or sour milk – I used sour
1 generous cup bran cereal (All Bran)
1/2 cup (2.4 oz) white whole wheat flour
3/4 teaspoon plus 1/8 baking powder
1/8 teaspoon baking soda
1/4 teaspoon cinnamon
1/8 teaspoon salt
3 tablespoons vegetable oil
3 tablespoons packed brown sugar
1 large egg
2 tablespoons maple syrup
Instructions
Preheat oven to 350 degrees F. Spray a 6 cup muffin cup with cooking spray or grease it well.
Combine the buttermilk and bran cereal; let stand for 5 to 10 minutes or until cereal is softened.
Meanwhile, in a small bowl, stir together flour, baking powder, baking soda, cinnamon and salt; set aside.
Stir egg, brown sugar, maple syrup and oil into bran mixture. Add flour mixture to bran mixture; stir just until combined.
Spoon batter into prepared muffin cups and bake for 25 to 30 minutes or until a toothpick inserted in centers comes out clean. Cool in muffin pan on a wire rack for 5 minutes. Remove from muffin cups and cool completely.
Drizzle with Maple Icing. Maple Icing: In a small bowl, combine 1 teaspoon melted butter with 1/2 cup sifted powdered sugar and enough milk to make a drizzling consistency. Add 1/4 teaspoon maple flavoring and stir until smooth.